Let's face it, you're out and about. Either in your home town commuting to work, meeting up with friends, and even doing the grocery run, or visiting a destination that's new to you, you spend a lot of your time out in public spaces.
And that means a risk of theft, particularly now we routinely carry thousands of dollars worth of kit with us – from smartphones to tablets and laptop computers. Then there's all that electronic data you carry around with you too, on credit cards and passports.
That puts you right in harm's way. How do you reduce the chances of becoming a crime statistic? By investing in one of the best anti-theft backpacks around. As you'll discover as you read our reviews, they come with all manner of features to help keep you safe, and your personal items secure.
Quick Summary: The Best Anti theft backpacks (vol 3600)
Best overall anti-theft backpack

Pacsafe Venturesafe GII 15 liter Backpack

RFID-blocking pouch, five year warranty

Check Price on Amazon

Best budget anti-theft backpack

Kopack Lightweight Anti-theft backpack

Check Price on Amazon

Best anti-theft laptop backpack

Travelon Urban Incognito

Sleeves for laptop and tablet, RFID-blocking pocket

Check Price on Amazon

Best anti-theft backpack for travel

Hanke Travel Backpack

Hidden zippers, extra hidden pockets

Check Price on Amazon

Best waterproof anti-theft backpack

Markryden anti-theft backpack

Water proof, laptop and tablet sleeves

Check Price on Amazon
Best overall anti-theft backpack
The anti-theft features on the Pacsafe Venturesafe GII start with the material this backpack is constructed from itself, which contains an embedded lightweight steel mesh to prevent slash and grab robberies.
But that's really only the start of this backpack's innovations. The two main exterior compartments have securable zippers with a further two exterior pockets for water bottles or an umbrella.
Within the backpack, there's a padded hanging sleeve to protect your tablet or laptop computer from the bumps of everyday life, a zippered pocket, and an RFID-protected pouch to keep credit cards and passport safe from scanning. It's a great everyday size at 15 liters (a slightly larger 25 liter version is also available), and comes with a five-year Pacsafe warranty!
Pros
Embedded steel mesh
Securable zippers
RFID-blocking pouch
Five year warranty
Cons
Just two color options
Fits laptops up to 13"
Not fully water proof
Too small for some
Is the Pacsafe Venturesafe GII 15 liter Backpack for you?
As anti-theft backpacks go this is a fine example, which is why it's made it to the top position as our best overall anti-theft backpack. The wide range of features will help keep you and your belongings safe from both physical and electronic attack, while not looking out of place in the meeting room, the city, or when traveling.
Best budget anti-theft backpack
Capable of holding a laptop with a screen size of up to 15 inches, the Kopack anti-theft backpack offers a good balance between budget and utility.
For your comfort, there's a soft bubble foam layer on the shoulder straps and other areas in contact with the body, while the hidden zipper design makes it difficult for pickpockets to open the backpack stealthily.
A luggage strap means you can slide the backpack over the handles of a wheely suitcase for easy transportation, and the outer tear resistant anti-slash hardwearing nylon materials are also water resistant. A number of internal pockets and pouches will also keep you organized when on the move!
Pros
Price
Comfortable
Hidden zipper design
Tear resistant nylon construction
Cons
No RFID-protection
Not fully water proof
One color option
Fits 15" laptop
Is the Kopack Lightweight Anti-theft backpack for you?
If you're on a tight budget the Kopack Lightweight anti-theft backpack offers a good half-way house between no anti-theft protection and the sort of features you'll find in more expensive anti-theft backpacks such as the Pacsafe Venturesafe GII. Its hidden zipper design makes it incredibly difficult for casual pickpockets, while containing pockets to help organize you might see in a standard backpack.
Editor's Note – If you're planning on traveling you'll need a reliable daypack!
Best anti-theft laptop backpack
The Travelon Urban Incognito may look minimalist in design, but that's far from the case when it comes to anti-theft technology.
There's a tamper-secure zipper on the main compartment, which opens out to reveal an interior that includes a padded sleeve for a laptop, a further additional sleeve for a tablet computer, and small pockets for smart phones and cables. There's also a hidden shoulder strap pocket with RFID-protection against electronic attack.
What's more, the bag is made from slash-resistant polyester and has a tough durable feel to its construction more generally. Available in black or slate gray, the Travelon Urban Incognito will stand up to the rigors of daily life while protecting your essential tech at the same time!
Pros
Tamper-secure zippers
Sleeves for laptop and tablet
RFID-blocking pocket
Durable construction
Cons
Just two color options
Maybe too minimalist in style for some
Not fully water proof
Too big for some needs
Is the Travelon Urban Incognito for you?
If you're routinely carrying around a showroom's worth of tech – and who isn't – you'll want a bag you can trust to keep all of that expensive equipment safe and secure. As well as having a subtle unobtrusive look to it, the Travelon Urban Incognito also has a range of features that will do just that for you!
Best anti-theft backpack for travel
The Hanke Travel Backpack also boasts a simplistic sleek design with hidden zipper access, making it difficult for pickpockets to know where exactly to start!
There are also smaller hidden back and side pockets to keep valuable items even further out of harm's way when traveling. External side pockets are perfect for bottles of water or an umbrella without the need to open the backpack in public, while its interior contains sleeves for both a laptop and a tablet computer but still leaves enough space for all the other belongings you'll want for a day sightseeing.
Further, the S-shaped shoulder straps are designed to be ergonomically sturdy, so you won't feel at all uncomfortable carry the backpack for hours at a time.
Pros
Hidden zippers
Extra hidden pockets
Sleeves for laptop and tablet
Comfortable to wear
Cons
Not fully water proof
3 similar color options
2 lbs in weight
Water bottle pocket quite tight
Is the Hanke Travel Backpack for you?
This anti-theft travel backpack from Hanke very cleverly crosses the divide between the demands of travel and the requirements of twenty-first century anti-theft technology. Combining the two with a minimalist design, you get basic anti-theft protection, and place for all you'll need to carry with you while out exploring a new city.
Recommended Article – Take a look at our amazing guide of the most awesome travel Hammocks on the market!
Best waterproof anti-theft backpack
There's little point going to the effort of choosing a great anti-theft backpack if instead, you let all your belongings get ruined by an unexpected rain shower. For that, you're going to need a water proof anti-theft backpack, and for that, we recommend the Markryden anti-theft backpack without hesitation.
Suitable for laptops of up to 15.6", the Markryden backpack also contains a separate tablet sleeve, while a whole series of other pouches and pockets will definitely help you keep all your tech organized.
Zippers are hidden throughout, and there's also a hidden back pocket for extra-special valuables. The main front panel of Oxford material is not only water proof, but also cut resistant, providing double protection for your belongings!
Pros
Water proof
Laptop and tablet sleeves
Hidden zippers
Cut resistant material
Cons
Fits laptops up to 15.6"
Too many internal pockets for some users
180 degree opening of main compartment
2 lbs in weight
Is the Markryden anti-theft backpack for you?
Anyone who likes to be super organized will more than appreciate the range of internal sections, pockets, and pouches found on the Markryden, in addition to specific sleeves for both a laptop computer and tablet. Protected from rain thanks to its water proof Oxford material, its also protected from pickpockets thanks to hidden zippers and pockets!
The Best Travel Backpack EVER MADE!?!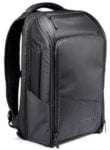 We are obsessed with backpacks – we've tried them all! And our favourite carry on backpack in the WORLD is the Nomatic Travel Backpack. This backpack has revolutionized the backpack industry and will change the way you travel forever :) Check it out here!
Best of the rest
This fashionable street-style anti-theft backpack by Mancro includes a dedicated laptop sleeve capable of holding a 17 inch laptop.
It comprises of three main zippered compartments, of which the very largest is lockable, and nine smaller internal pockets. An external USB with charging cable makes it possible to charge electronic items without having to rummage endless with the backpack wide open in public, and is also water resistant!
Comfortable to wear, the Mancro anti-theft laptop backpack has S-shaped shoulder straps that better model the body's shape than standard straight shoulder straps.
Pros
Can hold 17" laptop
3 zippered compartments
External USB
Ergonomic
Cons
Only water resistant
No RFID-protected pocket
Might look out of place in a conference room
Large for smaller laptop users
Is the Mancro anti-theft laptop backpack for you?
This anti-theft backpack has a great look to add to its variety of compartments and pockets. Mancro has obviously worked hard to produce an anti-theft backpack that perfectly matches the needs of today – the result is a backpack with plenty of compartments and pockets, which is also comfortable to wear.
P.S. – Save a bit of cash with our epic guide of AMAZING inflatable kayaks!
Like a good many of the anti-theft backpacks on our list, the Oscaurt has the zippers to its main compartment hidden, making it difficult for casual pickpocketing to occur.
The main compartment opens out to reveal another range of pockets for keeping all your tech neatly in place, from laptops with a screen size of 15 inches to pens and other smaller items. A range of features also make the Oscaurt incredibly handy to have around.
There's an external USB with an integrated charging cable to help charge your electronic devices at any time, and a strap to slip over the retractable handles of a wheely suitcase too!
Pros
Hidden zippers
Great number of internal pockets
Fits 15" laptop
External USB
Cons
Won't fit larger laptops
May be too many compartments for some users
Not fully water proof
No RFID-protection
Is the Oscaurt anti-theft backpack for you?
This anti-theft backpack by Oscaurt offers a great blend of everyday backpack functionality with the added touches of anti-theft technology such as its hidden zippers to the main compartment. If you need to regularly transport expensive electronics equipment, you should definitely consider this backpack!
If you're in need of an anti-theft backpack that's a little larger than the norm, take a look at the Inateck 40 liter anti-theft backpack.
It includes not just one, but two, laptop/tablet compartments, protected within a compartment of lockable double zippers. You're even safe from the rain thanks to the included rain cover, and will remain organized whatever the day throws at you with helpful extras such as the change pocket.
Comprising a durable, abrasion and scratch resistant material that is also water resistant, the Inateck 40 liter is sure to serve you well for a long time to come, whether in the world you might end up!
Pros
Laptop and tablet compartments
Additional pockets
Lockable double zippers
Comes with rain cover
Cons
Too many pockets for some
40 liter capacity
Business-like design
No RFID protection
Is the Inateck carry on for you?
Lockable double zippers, rain cover, a 40 liter capacity and dedicated compartments for both a tablet and laptop? The Inateck 40 liter anti-theft backpack really does tick a lot of boxes. Looking perfectly at home in an important business meeting, anyone needing the extra capacity this backpack offers shouldn't hesitate to hit order!
Recommended Article – Love kayaking? Check out these AMAZING tandem Kayaks for all budgets!
This slimline ant-theft backpack from Kopack, who already have one listing in our review of best anti-theft backpacks, has a different starting point for security, with a completely separate and lockable laptop compartment to the rest of the backpack.
This means you can open up the backpack's main compartment without anyone knowing you've got a laptop in there! What's more, the backpack's longer shape means it will even take a 17 inch laptop!
Meanwhile, the whole backpack is made from durable, tear resistant and water resistant Oxford cloth comprising an extra-protective two layer construction, with the addition of high grade four-tooth lockable metal zippers. To keep you active on the go, another handy feature is the USB port and charging cable.
Pros
Separate laptop compartment
Tough two-layer construction
Lockable zippers
USB port
Cons
Only water resistant
Overly organized internally for some users
More laptop padding would be beneficial
No RFID-protection
Is the Kopack Slim anti-theft backpack for you?
Just because you have a larger laptop doesn't mean you shouldn't be able to find an anti-theft backpack that remains slimlined and looks good as well as functioning well. The good people at Kopack heard that call and created the Slim with its nice separate compartment close to your back to keep your laptop safe and hidden.
This bag has been specifically designed by the team at Eagle Creek with travelers in mind, and the result is a fantastic bag boasting a number of compartments each of which have metal double zippers with Secure-Zip Toggle closures for lockability.
Capable of absorbing a 17 inch laptop without issue and with a total volume of 35 liters, there's also an extra tablet computer sleeve internally, and an electronics pocket.
What's more, there's a small RFID-blocking pouch for keeping your credit cards, passport, and ID card safe from electronic scanning attack. The useful sternum strap even comes with a whistle, should you need to attract someone's attention in a hurry!
Pros
Great for travelers
Lockable compartments
RFID-protected pouch
Sternum whistle
Cons
Imported into the US
Water resistant only
8 lb in weight
35 liter
Is the Eagle Creek Universal Traveler Backpack for you?
What we're really asking is, are you a universal traveler? Because if you are, you'll find this anti-theft backpack from the high quality factory of Eagle Creek right up your street. A good size at 35 liters, its main compartments are lockable, and it contains that all important RFID-blocking pocket internally to keep all your electronic data safe!
Editor's Recommendation – Love the outdoors? Check out our bargain guide to the best packing Cubes!
Lewis N Clark market the Secura as a three-in-one anti-theft backpack, meaning you can wear it as either a traditional backpack, as a shoulder bag, or across the body.
And of course, it has a good number of anti-theft devices besides. First among these is the wide steel containing anti-slash shoulder strap, which makes it difficult for anyone to run off with your bag. There are also slash resistant panels hide across a backpack's most targeted points for extra security.
There's a RFID-blocking pouch for your smaller data items, and an external locking pocket designed for your smart phone. Very smart indeed!
Pros
Wear three different ways
Anti-slash strap and panels
RFID-blocking pouch
Lockable smart phone pocket
Cons
Too small for some laptops
Not water proof
Single color option
Not for business work
Is the Lewis N Clark Secura for you?
It may be the last anti-theft backpack we review, but that doesn't mean the Lewis N Clark Secura is any less secure than any of the others we've looked at. For anyone looking for a good everyday backpack that also has anti-theft devices, this is the backpack for you!
Safe as houses….
With all these anti-theft backpacks we've brought to your attention your belongings, both physical ones and electronic ones, will be safe as houses. Whatever your style, and whatever your needs in an anti-theft backpack, you're sure to find what you're after thanks to our guide!
Editor's Note – No matter where you are traveling, you NEED to have great travel insurance. We have personally tested TONS of travel insurance companies, and can say without a doubt that World Nomads is the absolute best (and most affordable!). Fill out the form below to get a quote.
***Disclaimer*** Some of the links in this post are affiliate links. This means that if you book your accommodation through the site, One Weird Globe will earn a small commission at no extra cost to you. Your support helps me keep the site going :)
Aiden travels for two things - food and sports! An avid football-fanatic, Aiden eats his way through Europe while catching every football he can manage! When he is not chasing matches around the continent, Aiden lives in Birmingham, UK.
Latest posts by Aiden Higgins (see all)