Long gone are the days when having a baby or toddler meant giving up on days out hiking and being stuck at home whether you liked it or not.
Ingenious individuals have today created a whole host of baby carriers specifically designed and built with hiking trips in mind. That said, if you're searching for a baby carrier for hiking for the first time, how do you choose between them?
We've cast our eyes far and wide to find the very best baby carriers for hiking on the market right now, giving you all the information you need to make the right choice for you and your family.
Best baby carrier for hiking with a newborn
The Lillebaby Six-position 360 baby carrier is a soft, frameless model of baby carrier thereby making it incredibly lightweight. It can be used without any add-ons from newborn right up to 45 toddler, and though it doesn't have the larger storage spaces of other baby carriers we'll review, it does still come with a small pocket for those baby essentials.
What's more, a zipper-controlled ventilation section allows you to reduce the front panel to a cooling mesh should your newborn start to overheat. It also offers the possibility to wearing the carrier on your front, back, or sides, and comes with a sun shade too!
Pros
Lightweight
Ventilation panel
Wearer versatility
Sun shade
Cons
For weights up to around 45 lbs
Lacks storage space
For shorter adventures
Can get quite warm
Is the Lillebaby Six-position for you?
If you're looking for a lightweight baby carrier for hiking with a newborn the Lillebaby Six-position is a great choice. Specifically designed to carry newborns from seven to 45 lbs, there's a ventilation panel and sun shade to help keep your little one cool, in addition to the versatility of being able to wear the carrier six different ways.
Editor's Note – You can also check out our article about the best Travel Towels.
Best baby carrier for hiking with a toddler
At the other end of the spectrum from baby carriers for newborns are baby carriers for hiking with a toddler, of which the Deuter Kid Comfort 3 is our top pick. A comfortable baby carrier option for adult and toddler alike, the Kid Comfort 3 is supremely well made.
The tough metal framing easily supports a toddler, while its padding – such as on the stabilizing hip belt – ensures a good fit however many hours you're on the trail. There are some handy pockets as you would expect from the thoughtful team at Deuter, and a sun shade too.
Pros
Well made
Metal frame support
Hip belt
Pockets
Cons
Buckle can be tricky with a wriggling toddler
Over engineered for everyday city use
Priced at higher end of market
Almost 8 lbs
Is the Deuter Kid Comfort 3 for you?
The Deuter Kid Comfort 3 is a trustworthy baby carrier for hiking with a toddler, being well constructed and with a metal frame that truly supports rather than just adding additional weight. Anyone heading out on a hike with their toddler in tow will also appreciate the pockets and sun shade built into the Kid Comfort 3!
Best ergo baby carry for hiking
The ergonomic design of the MiaMily HIPSTER + baby carrier is definitely helped by its lightness of weight. Its ergonomic design spreads the weight of your child right across your shoulders and lower back, to help stop the development of painful muscle spasms or aches and pains. As a soft form baby carrier, the HIPSTER + comes without the weight of a metal support frame, and comes out of the box at just 3 lbs!
Designed to support babies of three months old to toddlers of three years or 40 lbs, its minimalist design still manages to include a small zippered from pocket. And while this is a front-loading carrier, it allows the adult to carry their child or baby in nine alternate ways.
Pros
Just 3 lbs
Specifically designed to be ergonomic
For 3 months to 3 years
Carry baby in 9 ways
Cons
Not a dedicated hiking baby carrier
Frameless
Minimal additional features
Small zippered front pouch
Is the MiaMily HIPSTER + for you?
Anyone who has had to lift and carry a baby or toddler for any length of time will understand the importance of ergonomic design that spreads the load of the child and helps to prevent the development of muscle strains or worse. Specifically designed to be ergonomic, the MiaMily HIPSTER + solves this problem.
Editor's Note – You can also check out our article about the best Inflatable Kayaks.
Best baby carrier packs for hiking
A mid-range option in the Poco AG Osprey baby carrier series, this baby carrier comes in at exactly the same weight as the Deuter Kid Comfort 3 we have already reviewed. With AG short for 'anti-gravity', you won't be surprised to learn that the Poco AG Plus contains Osprey's famed backpack suspension system.
There's also plenty of storage space for carrying everything you'll need to take with you on any hike – an impressive 26 liters in fact. There's also an effective sun shade, as with the majority of other baby carriers for hiking we're reviewing here.
Pros
Good back support
Storage space
Sun shade
Great harness design
Cons
26 liters of storage capacity
Less comfortable than the Deuter
Almost 8 lbs
Not for everyday city use
Is the Osprey Poco AG Plus for you?
Including a large daypack-sized storage volume of 26 liters in addition to its baby carrying capacity, the Osprey Poco AG Plus is all you'll need for a few hours of hiking. Comfortable on the shoulders of the adult carrying, it has an easy to use harness, and that all important sun shade too!
Further Reading – Have a look at the most awesome Tandem Kayaks!
Best soft baby carrier for hiking
The frameless design of the Ergobaby 360 Cool Mesh Air baby carrier makes it incredibly adaptable a model when it comes to use, and can be easily packed into a backpack when not in need. Its soft, frameless nature means it weighs less than 2 lbs out of the box, and comfortable for smaller children too!
Being frameless means the baby is much closer to the adult's body than in the alternatives with support frames, something we think aids balance and dexterity on the trail. Having your baby close may be great for balance (and bonding too) but it can mean you get quite sweaty on harder paths.
Pros
Soft
Lightweight
Packable
Compact
Cons
Frameless
Lacks exterior pockets
Gets warm
Not a dedicated hiking baby carrier
Is the Ergobaby 360 Cool Mesh Air for you?
For a soft baby carrier for hiking that is compact, lightweight, and packable, the Ergobaby 360 Cool Mesh Air is a good option. Though it may not boast the frame support or pockets of more complex models, you'll find this to be an exceptional baby carrier for shorter hikes with your young family.
Editor's Note – You can also check out our article about the best Travel Hammocks.
The Best Travel Backpack EVER MADE!?!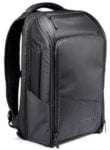 We are obsessed with backpacks – we've tried them all! And our favourite carry on backpack in the WORLD is the Nomatic Travel Backpack. This backpack has revolutionized the backpack industry and will change the way you travel forever :) Check it out here!
Best baby carrier for light hiking
The Sapling Elite is Thule's top of the range baby carrier, and an excellent consideration when looking for the best baby carrier for light hiking. (The Sapling is the more basic model, lacking the daypack and with smaller pockets to the hip belt.) Why is this such a great model for light hiking?
The good-sized hip belt and shoulder straps are both adjustable to your shape, and the Sapling Elite has a solid support frame too. The Elite also comes with a removable zip-off daypack, useful pockets on the hip belt, and stirrups for the child to put their feet on for extra comfort.
Pros
Designed for light hiking
Adjustable
Zip-off daypack
Pockets
Cons
Not as stylish as other models
Back panel could be softer
Almost 8 lbs
Not packable
Is the Thule Sapling Elite for you?
An almost perfect companion to a day of light hiking, the Thule Sapling Elite is worthy of the name. Strong yet comfortable, with the ability to adjust to the wearer, both adult and child will be happy using the Sapling Elite for a few hours, while the added features such as the hip belt pockets can be a lifesaver!
MUST READ – Take a look at our guide to the Best Travel Jackets
Best of the rest
As its name suggests, this baby carrier for hiking from Kelty has been carefully designed to have a perfect fit to the wearer as a result of an entirely remodeled system of adjustment that requires the tugging of just a couple of straps. The Signature is a mid-range model in the Journey PerfectFit series (there's the self-named basic model and an Elite too), with a host of useful features.
These include a wider child seat, stirrups, and a drool pad which is removable for easy washing and disinfecting. There are also two zippered compartments for storing those necessities, and a pocket on the hip belt for little extras.
Pros
PerfectFit adjustability system
Wide child seat
Removable drool pad
Zippered compartments
Cons
Not packable
26 liter storage
7 lbs
Only one way to wear
Is the Kelty Journey PerfectFit Signature for you?
An excellent fit thanks to the adjustable PerfectFit system, and a good number of pockets and zippered compartments will mean anyone will be happy to have purchased the Kelty Journey PerfectFit Signature. Add to that the neat additional features, and you have a very solid option on your hands!
Editor's Note – You can also check out our article about the best Travel Strollers.
At a little of 5 lbs in weight out of the box, the Clevr Baby Cross Country Carrier is one of the lightest baby carriers with frames on the market at the moment! A keen pricing structure also makes it a great baby carrier for hiking for those on a budget.
But that doesn't mean the Cross Country Carrier doesn't have a whole load of positives to its name. In addition to a sun shade, there's also rain protection in the guise of a clear plastic hood, and a sensible number of pockets for storage too.
Pros
Support frame
5 lbs
Good pricing
Rain hood
Cons
Not as stylish as other models
For short hikes only
A little bulky given weight
Just one carrying option
Is the Clevr Baby Cross Country Carrier for you?
If you're looking for a reasonably-priced baby carrier that will be more than adequate for short walks on the hiking trails there's absolutely no reason to cross the Clevr Baby Cross Country Carrier from your potentials list. At 5 lbs its one of the lightest framed baby carriers you'll find, and has a rain hood your toddler will love.
Editor's note – If you are planning to travel, you should check out our article about the best Travel Daypacks
A premium baby carrier from this New Zealand born brand, the Escape is a dedicated baby carrier for hiking. Coming from the country that brought you the first man to conquer Mount Everest, Sir Edmund Hilary, you can be sure it will be more than up to the challenge! It also folds down flat to make transport all the easier, while being an impressively light 6 lbs 10 oz.
Additional features include a sun shade, stirrups for little feet, and even a mat for changing diapers on the move. Is style the victim of all this clever design? Not at all! The Escape has a slim-lined look that won't look out of place in the city or in the country.
Pros
For city and country
Lightweight
Folds flat
Great style
Cons
Dedicated hiking baby carrier
Framed
Tricky adjustability
Smaller pockets than other models
Is the phil&teds Escape for you?
Looking for a dedicated baby carrier for hiking that has both a stylish stream-lined look and all the functionality you'd expect from a brand that specializes in baby products? Here it is – the phil&teds Escape. Lightweight and folding flat, this is a really impressive baby carrier!
Recommended Article – have you checked out our article about the Best Carry on Backpacks?
Another of our budget-friendly options is the LuvdBaby Premium baby carrier. But its lower price doesn't mean it doesn't come constructed from ripstop polyester material to minimize the chances of tearing. It also matches other brands with the features it offers, from the mesh sun shade and tubular metal kick-stand to hip belt support with useful pockets.
With a reasonable look to it, you won't be embarrassed to start out any hiking in the city with the LuvdBaby Premium, and the padded shoulder straps will keep you feeling comfortable long after you've started walking!
Pros
Budget-friendly
Ripstop material construction
Hip belt with pockets
6 lbs 7 oz
Cons
Mesh sun shade
Not a dedicated hiking baby carrier
Best for shorter hikes only
Metal frame
Is the LuvdBaby Premium for you?
For anyone looking for a baby carrier that will the match of any short hike, the LuvdBaby Premium is a wise choice indeed. Made from ripstop materials, its also one of the lighter baby carriers around with metal frames, which all in all, gives you the best of both worlds.
Further Recommended – Take a look at our AMAZING guide to the best Travel Yoga Mat
The Piggyback Rider Scout is like no other baby carrier for hiking on our list. A stripped back version of a baby carrier if ever there was one, comprising of padded shoulder straps and a foot bar. The idea is that toddlers stand on the aluminum bar – adaptable to each child's individual height – to feel like they're taking more than a passive part in any hiking adventure.
As a result, the Piggyback Rider Scout, which is intended for children of two years and up, acts as a good stepping point between a child being carried along a hiking trail and being able to cover it on their own two feet.
Pros
Really lightweight at just 3 lbs
Adaptable to a toddler's height
Gets toddlers involved in hiking
Stepping stone to solo walking
Cons
Stripped back design
No pockets
No sun shade
Hip belt charged at $30 more
Is the Piggyback Rider Scout for you?
The Piggyback Rider Scout is certainly different from anything else in the baby carrier market! If you're looking for a feature-free baby carrier for the occasional hike, acting as a bridge between your toddler being carried and walking the trail themselves, then this is a worthy addition to your family's kit.
Further Recommended – Take a look at our AMAZING guide to the best Hiking sandals
Final thoughts!
There's definitely no need to give up your love of hiking just because you have a newborn or toddler in the family thanks to these incredible baby carriers!
Whatever you're looking for in a baby carrier for hiking, we're sure you'll find a model that meets all your needs in our extensive review here, for which we've worked hard to bring you all the information you want to make not only an informed but also the right, decision on which to purchase.
Editor's Note – No matter where you are traveling, you NEED to have great travel insurance. We have personally tested TONS of travel insurance companies, and can say without a doubt that World Nomads is the absolute best (and most affordable!). Fill out the form below to get a quote.
***Disclaimer*** Some of the links in this post are affiliate links. This means that if you book your accommodation through the site, One Weird Globe will earn a small commission at no extra cost to you. Your support helps me keep the site going :)
Clair is a travel addict and a staff writer for One Weird Globe! A Nomad since birth, Clair has lived all over the world, calling home wherever she is in the moment. Having traveled half the world, Clair is working on a memoir about her experiences in hopes to inspire others to travel and experience this amazing planet!
Latest posts by Clair Ricketts (see all)