Bangkok is the beautiful and bold Thai capital city. A hub for travellers and a gateway into Southeast Asia, the city is an incredible patcwork of history, culture and a world-famous street food scene.
But with literally HUNDREDS of hostels, picking which one to book can be super difficult.
There's nothing to worry about though: our round-up of the best hostels in Bangkok is designed to help you find a cool hostels in Bangkok and quickly!
The hostels on our list are all so chic and stylish, that you won't believe how cool they are. And we think you'll be surprised at how much of a bargain some of them are..
Editor's note – explore beyond Bangkok and check out our coolest day trips from Bangkok!
The Best Hostels in Bangkok: Round-up
Best Overall Hostel in Bangkok – Here Hostel
Best Party Hostel in Bangkok – Mad Monkey Bangkok
Best Hostel for Solo Travellers in Bangkok – The Oasis Hostel
Best Hostel near Khao San Road – NapPark Hostel
Best Hostel near the Grand Palace – Niras Bankoc Cultural Hostel
Best Hostel near Lumpini Park – ETZzzz Hostel
Best Hostel near Bangkok Airport – Staying Hostel Suvarnabhumi Airport
Best Hostel near Bangkok Train Station – Chic Hostel
Best High-end Hostel in Bangkok – Once Again Hostel
Best Hostel for Couples in Bangkok – Kama Bangkok
Best Cheap Hostel in Bangkok – Jellybean The Blocks Hostel
Best Hostel with a Private Room in Bangkok – The Printing House Poshtel
15 Best Hostels in Bangkok
Best Overall Hostel in Bangkok
Why we like Skanstulls Hostel…
Housed in a 100-year-old building, this hostel is the epitome of a cool hostel. If you aren't won over by its trendy interiors then maybe the fact that its has a massive slide in the reception area might make you realise that this is the coolest hostel in Bangkok. We definitely love it.

Skanstulls Hostel is perfect for…
The perfect hostel in Bangkok for travellers who want a mix of everything the city has to offer, it's close enough to the madness of Khao San Road to enjoy a raucous night out, but chilled-out enough for those who want to have some quiet time and see the city's sights.
Best Party Hostel in Bangkok
Why we like Mad Monkey Hostel…
Mad Monkey Hostels have got a name for themselves as the place to stay if you want to party and meet other like-minded travellers and of course, this one in Bangkok does not disappoint. The best party hostel in Bangkok would not be complete without a big bar and an outdoor pool primed for pool parties. Love it.
Mad Monkey Hostel is perfect for…
The best Bangkok backpacker party hostel has everything for travellers who want to drink alcohol by the bucketload and party all night, but also want to stay in a clean hostel where you will feel safe. The food they serve up at their restaurant is pretty tasty, too!
Best Hostel for Solo Travellers in Bangkok
Why we like The Oasis Hostel…
Travelling solo in Bangkok is made easy at The Oasis Hostel, the best hostel in Bangkok for solo travellers. This place makes sure their guests are all having a good time by arranging social events and bringing everyone in the hostel into their community, which we love. The staff are always really helpful and create a welcoming environment that is great for meeting fellow travellers.
The Oasis Hostel is perfect for…
Hang out in the relaxing common room area and get chatting to other travellers easily. Whether you want to see some Thai boxing or learn how to cook your favourite Thai dish with some new friends that you've met in the hostel, this top Bangkok backpackers hostel is great if you're travelling on your own.
Best Hostel near Khao San Road
Why we NapPark Hostel…
Not just a place to crash after a night out, NapPark is the best hostel near Khao San road because it's a clean, safe environment, which we appreciate in areas like this. It's also a really sociable, so meeting lots of new people to party with and enjoy the hostel's games nights is easy.
NapPark Hostel is perfect for…
The perfect position for hitting up the bars and clubs along Khao San Road, NapPark Hostel is just a short walk to the action but far enough away so that you can get a good night's sleep. What makes this top hostel in Bangkok even better is that staff are super friendly and helpful, arrange lots of social events, and make sure all the guests are having a good time.
P.S. – Save a bit of cash in Thailand with our EPIC guide to the best hostels in Ko Phi Phi!
Best Hostel near the Grand Palace
Why we like Niras Bankoc Cultural Hostel…
More like staying in a trendy cafe than a backpacker hostel, this place is all about its chic decor which we love. Using the history of the old building, this cool hostel in Bangkok creates a shabby chic aesthetic which feels like stepping back in time to an old Bangkok coffee shop. The dorms and private rooms are a lesson in simple but stylish decor and the surrounding area is busy with local restaurants and street food stalls – all adding up to make this place the best hostel near the Grand Palace.
Niras Bankoc Cultural Hostel is perfect for…
A short walk from the amazing opulence of the Grand Palace, staying here for just one night isn't enough – it's the sort of cool Bangkok hostel that you will want to stay for day just lapping up the chilled ambience, sipping coffee in the lobby and walking around the area soaking up the culture.
Best Hostel near Lumpini Park
Why we like ETZzz Hostel…
Bangkok hasn't got a whole load of green spaces and so if you are looking for the best hostel near Lumpini Park, surrounded by the slower pace of a residential area, then EzZzz Hostel ticks a lot of boxes. Its cheap room rate, which we love, and location close to Lumpini MRT station makes it easy to see other areas of the city as well.
ETZzz Hostel is perfect for…
Chilled travellers. Decorated in the same colour palette as Lego bricks, this cool hostel near Lumpini park is a good place to stay to take some time out of your travels. The ares is busy with street food stalls and local hangouts, but the best thing about this place is their roof terrace with its incredible views of the park with the backdrop of the city skyscrapers which glitter at night.
Best Hostel near Bangkok Airport
Why we like Staying Hostel Suvarnabhumi Airport …
The best hostel near Bangkok Airport, the staff who work here will be more than accommodating when you arrive in the city late at night or have to catch an early flight. Just ten minutes away from the airport, you won't have to suffer any long taxi rides into the city centre and there's a night market around the corner which means you can get some tasty snacks before catching your flight. We love all this convenience.
Staying Hostel Suvarnabhumi Airport is perfect for…
A great hostel for backpackers, you can choose from a clean dorm bed or a private room. Staying here means you don't need to worry about arriving in the middle of the night – there's a 24-hour reception and someone is always on hand to check you in and make sure you can have a refreshing shower and something to eat and drink.
Best Hostel near Bangkok Train Station
Why we like Chic Hostel…
It's sometimes a little stressful trying to catch a train in a place you don't really know, but Chic Hostel puts itself up there as the best hostel near Bangkok Train Station for helping guests make sure their onward train journeys run smoothly. They also provide a free luggage storage service which comes in very handy. Just make sure you haven't booked a train too early because the huge free breakfast they serve is not to be missed!
Chic Station is perfect for..
Perfect for when you have arrived in the city on one of those long overnight train journeys and desperately need a shower and somewhere clean to get some rest. The self-service check in, cool Moroccan style decor and the fact they have a swimming pool make this easily a highly recommended hostel in Bangkok.
Best High-end Hostel in Bangkok
Why we like Once Again Hostel…
Thailand has become well known for its amazing hostels, but Once Again Hostel is quite simply the best high-end hostel in Bangkok. Housed in a super cool, industrial style building that we want to live in (it's that cool), if you choose to stay here just expect to be snapping endless pictures of the incredible design throughout.
Once Again Hostel is perfect for…
Flashpackers, of course. This cool hostel in Bangkok's use of polished concrete paired with green plant life and stripped-back wood all works together to get us booking a bunk there just to stay among the sheer chicness of it all. And that's not even mentioning it vibey roof terrace with views of the Palace.
Best Hostel for Couples in Bangkok
Why we like Kama Bangkok…
Kama Bangkok isn't your normal Bangkok hostel. For one its nowhere near the madness of Khao San road or tourist sight, but that's why we love it. Run by a friendly American who has an eye for design, staying in this hostel is more like staying in a boutique hotel but for a fraction of the price. Ultimately this is the best hostel for couples in Bangkok because it's a super chilled out environment for you and your partner to spend time together enjoying all that is amazing about the vibrant Thai capital.
Kama Bangkok is perfect for…
Couples. Maybe hipsters, too. Their private rooms are massive and come with big TVs that are set up with loads of movies, the breakfast is totally delicious, but it's the surrounding local streets which make it perfect for couples. Imagine exploring the traditional Thai local areas together, stopping off for street side snacks and then catching the river ferry into the city centre for a spot of dinner and drinks. Dreamy.
Best Cheap Hostel in Bangkok
Why we like Jellybean The Blocks Hostel…
We like value for money and we like style and Jellybean Hostel manages to combine the two to become the best cheap hostel in Bangkok. Not just a budget backpackers hangout, the hostel is a safe, clean and tidy space where you can relax and and get a good night's sleep as well as meeting other travellers over sunset drinks on the roof terrace.
Jellybean The Blocks Hostel is perfect for…
A solid choice for a budget hostel in Bangkok, the cool library and reception make this hostel seem more expensive than it is. It's a quiet spot to stay that isn't close to the tourist sights, but really close to a skytrain stop which means travelling around the city is easy.
Best Hostel with a Private Room in Bangkok
Why we like The Printing House Poshtel…
With a lot of competition for the title of the best hostel with a private room in Bangkok it takes a lot to take the title, but this hostel pulls out all the stops. The staff here go above and beyond to make sure your stay is the best it can be. Staying here is like staying in a trendy bar, but where you can slip off to the comfort of your private room for a good night's sleep.
The Printing House Poshtel is perfect for…
This super cool Bangkok hostel is all about its industrial design and historical architecture. This boutique Bangkok hostel is perfect for people who are looking for somewhere with relaxing private rooms, but who also want the atmosphere of a hostel. There's a busy roof terrace where you can grab a drink and watch the sunset, too.
The Best Travel Backpack EVER MADE!?!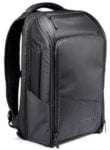 We are obsessed with backpacks – we've tried them all! And our favourite carry on backpack in the WORLD is the Nomatic Travel Backpack. This backpack has revolutionized the backpack industry and will change the way you travel forever :) Check it out here!
More Best Hostels in Bangkok
Why we like Good Day Hostel…
A fun, bright and happy youth hostel in Bangkok, we really love its spotless dorms and, as always, the really friendly staff. This is the kind of hostel that is more of a very welcoming, home away from home than a place to party. We also like the aesthetic – cutely Asian and modern.
Good Day Hostel is perfect for…
The ideal place to stay for backpackers who want to stay in recommended hostel in Bangkok that's cosy and calm with lots of private corners to hang out in. Its location close to the MRT means you can explore the city easily, but it's also in walking distance to lots of fantastic restaurants and shops.
Why we like Good' uck hostel…
One of those cool Bangkok hostels which uses an old traditional building and creates a really cool modern space for it's guests, we like this hostel for is clever use of space and design. The interiors of this place seem like they are straight from the pages of a design magazine – except it's a hostel and you can actually stay there.
Good' uck hostel is perfect for…
This top hostel in Bangkok is great for backpackers who want privacy when they stay in a dorm, the dorm beds come with curtains and look really cool as well. Think parquet floors and dark grey walls. The hotel's rooftop terrace is also a nice place to hang out and see the city skyline. The bar is also good to get chatting to other guests over a beer or two.
Why we like Chao Hostel…
It might look more like a high-end hotel,. and this recommended hostel in Bangkok is also on the expensive side compared with lots of budget hostels in Bangkok, but it's worth staying here just to treat yourself. The trendy interiors are big and spacious – and we can't help but love their use of polished concrete, especially in the indoor-outdoor balcony area.
Chao Hostel is perfect for…
Flashpackers – or couples. If you're looking for a really cool Bangkok hostel to relax in for a few nights, this hostel is a lesson in backpacking luxury. Clean and well maintained, the staff speak excellent English and will treat you like you are staying in a 5-star hotel. Check out the really cleverly designed beds in the dorms, as well as the nice touch of the Thai alphabet behind reception.
Last thoughts on the best hostels in Bangkok
Heading to Chiang Mai next? These are the best hostels in Chiang Mai, Thailand. 
Didn't we say all of the coolest hostels in Bangkok are also super trendy? Some of them are just so incredibly cool that we want to move in and not leave.
Now that you've read the list you'll know where to stay and what to do – and be able to keep within your travel budget.
The hosts in the hostels are all really friendly as well; they will be able to help point you in the right direction with travel tips and restaurant recommendations. Need to stay near Khao San Road? Our list of the 13 best hostels near Khao San Road is designed to help you find a great hostel – no matter your budget!
And, if you are really finding the choice really tough, don't panic. There's always Here Hostel, our choice for best overall hostel in Bangkok. What are you waiting for? It's time to have the most amazing time in Bangkok!
P.S Need to explore Thailand? Written by our expert travelers, our list of the 11 BEST hostels near Phuket Airport is here to help you on your travels!
Editor's Note – No matter where you are traveling, you NEED to have great travel insurance. We have personally tested TONS of travel insurance companies, and can say without a doubt that World Nomads is the absolute best (and most affordable!). Fill out the form below to get a quote.
***Disclaimer*** Some of the links in this post are affiliate links. This means that if you book your accommodation through the site, One Weird Globe will earn a small commission at no extra cost to you. Your support helps me keep the site going :)
Latest posts by Aaron Radcliffe (see all)