Ho Chi Minh, formerly called Saigon, has quickly become a top tourist destination and is also considered a World City, meaning it plays a significant role in the global economic market. It is the perfect mix of old world and new world. The city is vibrant, exciting and energetic. It has a fascinating history, filled with war and drama, but today, it is a thriving city with a population of more than eight million. The city is filled with museums, art galleries, war memorials, and cultural markets – all made easily accessible for tourists and backpackers.
At night, the city turns up the heat, with the restaurants, bars, and cafes coming alive. Filled with people from all over the world, backpackers flock to Ho Chi Minh for its adventure, culture, diversity, and affordable prices. Ho Chi Minh is an unforgettable travel destination.
With such an intense city to navigate, it can be tricky to figure out the best places to stay. But worry not; our guide to the top hostels in Ho Chi Minh has you covered, no matter what style of traveler you are.  
There are numerous hostels scattered throughout the city, offering amenities and attractions to suit a variety of tastes. With our list, you're guaranteed to find the perfect fit for you.  
The Best Hostels Ho Chi Minh: Round Up
Best Overall Hostel in Ho Chi Minh –  Vietnam Backpackers- Saigon
Best Party Hostel in Ho Chi Minh – The Hangout
Best Hostel for Solo Travelers – Himalaya Phoenix
Best Hostel for Couples – FourC Hostel
Best Hostel for Friends – Bich Duyen
Best Hostel for First Time Travelers – Da Blend
Best Family Style Hostel –  VY Khanh Hostel
Best Hostel for Remote Workers/Digital Nomads – Common Room Project
Best Hostel for Backpackers on a Tight Budget – Alleyway Hostel
Best Hostel with a Relaxing Stay – The Like Hostel and Cafe
21 Best Hostels in Ho Chi Minh
Best Overall Hostel in Ho Chi Minh
Why We Like Saigon Hostel…
Saigon Hostel cares about their guests, and it shows; they offer reimbursement if you have a ticket for your airport transfer. The hostel features a rooftop bar and offers both dorm style and private rooms.
Saigon Hostel is Perfect for…
The beginning of your trip. The friendly staff are always on hand to answer any questions you have about your time in the city. They can also help you plan your perfect trip around Vietnam while ensuring you have a great experience during your stay.
Best Party Hostel in Ho Chi Minh
Why We Like The Hangout…
The Hangout Hostel offers free breakfast, free beers, a free pub crawl, and a free walking tour. The hostel is located on Bui Vien Backpacker street, making it super easy to meet other travelers.They offer airport transfers, a laundry service, and even SIM cards. There is a super cheap bar on site, with plenty of 2-for-1 deals, so you can enjoy a big night without even having to set foot out the door.
The Hangout is Perfect For…
Social travelers looking to party, meet new people and make new friends. The Hangout creates an upbeat party vibe. Whether you're with a group of friends or looking for new ones, this is the place to be if you're after fun, drinks, and rowdiness.
The Hangout has been voted the number one party hostel by multiple travel websites and is highly recommended by backpackers. The rooftop bar is the most talked about part of the hostel; it has cheap drink options for a "night out" without actually going anywhere.
Best Hostel For Solo Travelers in Ho Chi Minh
Why We Like Himalaya Phoenix…
The Himalaya Phoenix hostel has a female only dorm, as well as a mixed dorm and a private room. With friendly staff and an on-site restaurant, this hostel makes things super easy for any solo traveler. There is also free wifi and a shared kitchen, so if you are in the mood to mix and mingle, you're likely to meet other people while you cook up your instant noodles.
Himalaya Phoenix is Perfect For…
Solo female travelers. The Himalaya Phoenix is ideal for single female travelers who are looking for a safe, secure and social place to stay in Ho Chi Minh. They also have bilingual staff in reception at all times for anything you might need. This hostel is close to the markets and museums.
Best Hostel for Couples
Why We Like FourC Hostel…
This hostel is centrally located and has a restaurant on the roof, as well as a bar and lounge and free high-speed internet. While the rooms are small, they are perfect for couples. The staff are friendly and will help you with anything you may need.
FourC Hostel is Perfect for…
Couples. You can get affordable, cozy rooms for some privacy. The restaurant on the roof also offers scenic views and low prices. There are plenty of other restaurants and cafes nearby if you're after a romantic night out. If you want to plan a special night in, they even offer room service! How fancy is that!?
Best Hostel For Friends
Why We Like Bich Duyen Hostel…
Bich Duyen is located in the ideal spot. It is super close to the most popular backpacking spots, the Ben Thanh Market, museums, and numerous restaurants, bars and cafes. They offer free breakfast, which includes coffee, tea, and pineapple juice. The rooms are spotless, and the staff are super friendly and helpful.
Bich Duyen is Perfect for…
Groups of friends traveling together. Bich Duyen has 24 hour service and security, unlimited free wifi, tours, and travel desks – as well as airport transfers.
P.S. – Save a bit of cash in Hanoi with our EPIC guide to the awesome hostels in Hanoi!
Best Hostel For First Time Travelers
Why We Like Da Blend…
Da Blend is super user-friendly. Reception is open until 11 pm and the staff can be reached 24/7 via messenger apps. They have free breakfast from 7-10am, a tour info desk, private bunk beds with your own reading lamp and charging outlet, as well as a rooftop bar – which is open from 7 am to 10:30 pm.
Da Blend is Perfect For…
First-time travelers or people traveling alone. They offer free city tours and super comfy beds. Their knowledgeable staff are always on hand and easily reachable, so you will always feel safe, comfortable and at home. The hostel has a few common areas, making it easy to meet new people.
Best Family Style Hostel
Why We Like VY Khanh Hostel…
This hostel is family-owned, and each room has AC, fan, cable TV, and mini bar. The hostel also features a tour desk, free wifi, laundry and room service, and a currency exchange. VY Khanh Hostel is known for its smiling, friendly, and helpful staff.
VY Khanh Hostel is Perfect for…
Anyone looking for a mellow place to stay. The hostel is cozy with only six rooms and is ideally situated near restaurants, cafes, museums and bars, where it's easy to meet new people.
Best Hostels for Remote Workers/Digital Nomads
Why We Like Common Room Project…
This hostel has a lot to offer; they have a tour desk, rooftop terrace, book exchange, and a game room. They also offer a rooftop bar, a communal kitchen, a vegetarian community dinner, a rooftop BBQ, and modern Vietnamese cooking classes.
Common Room Project is Perfect for…
Digital nomads. The hostel features free wifi which covers all hostel areas at impressive speeds. The hostel has 48 beds, and while it still has a relaxed hostel vibe, Common Room Project bumps it up a notch with a bit of luxury and a modern feel.
Best Hostel for Backpackers on a Tight Budget
Why We Like Alleyway Hostel…
Alleyway gets involved in the community, with different volunteer projects for their employees as well as their guests. The hostel offers breakfast, free parking, and wifi. Room service and airport transfer are also available. Most rooms feature air conditioning and a kitchenette.
Alleyway Hostel is Perfect for…
Backpackers who like to get involved with the local community and for anyone on a tight budget. This hostel is super affordable but doesn't skimp where it really matters. Alleyway Hostel is highly ranked and affectionately reviewed. Guests especially love the friendly staff and clean, comfy beds.
Best Hostel for a Relaxing Stay
Why we Like The Like Hostel and Cafe…
The Like Hostel and Cafe is in the perfect location; they can be found in District 1, close to the bars and restaurants for a fun night out.  Although it's close enough to all the action if you fancy a night out, this is not a party hostel and has a super relaxed vibe to it. The hostel offers a book exchange, 24-hour front desk help, free wifi, and luggage storage.
The Like Hostel and Cafe is Perfect For…
Anyone looking for a social yet mellow vibe. The Like Hostel features a terrace, a tour and ticket desk, family rooms and airport shuttles.
The Best Travel Backpack EVER MADE!?!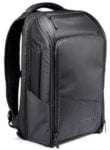 We are obsessed with backpacks – we've tried them all! And our favourite carry on backpack in the WORLD is the Nomatic Travel Backpack. This backpack has revolutionized the backpack industry and will change the way you travel forever :) Check it out here!
Other Highly Recommended Hostels in Ho Chi Minh
Why We Like Town House 23…
This hostel is super clean, with various rooms to choose from – including dorms and private rooms, all at affordable prices. Town House 23 is located near the Ben Thanh Market, the city center, and the backpacking district. Surprisingly, even though it's near all these popular spots, it's still located on a quiet street, so you are guaranteed to get a good night's sleep.
Town House 23 is Perfect for…
Sophisticated travelers (as their website proudly states). Town House 23 offers 24/7 pickup and drop off services, rooms with a/c and wifi, and a computer for public use in the lobby. They have a bar and vending machines as well as luggage storage and laundry services.
Why We Like Phan Anh Backpackers Hostel…
This hostel is brand new to the city and has a hip, friendly and social vibe to it. It is near the airport and the popular Ben Thanh Market. It has both private rooms and shared dorms on offer at affordable prices. Rooms are comfy and clean and have lockers in the dorms for your valuables.
Phan Anh Backpackers Hostel is Perfect for…
Backpackers on a budget. They have a very modern vibe and were awarded a Certificate of Excellence in 2013. Your stay comes with free wifi,  a welcome drink, and air conditioning.
Why We Like The Hideout…
The Hideout was voted the 2016 and 2017 Hostelworld HOSCAR winner. This hostel is big but clean and is one of the top-rated places to stay in Ho Chi Minh. There is a rooftop bar, a coffee shop and booking service, as well as a free breakfast from 7-11 and free beer from 7-8pm.  The hostel also puts on a pub crawl every Tuesday, Thursday, and Sunday.
The Hideout is Perfect for…
Outgoing people looking to meet other outgoing people. They offer 10-bed and 12-bed dorms that are super clean, air-conditioned and safe. There are private showers and toilets. The bubbly, active vibes create the ideal atmosphere for making new friends.
Why We Like Suite Travelers Inn…
Ideally located in the popular downtown area, you'll have easy access to popular tourist attractions, as well as the airport. The rooms are spacious, comfortable and clean. They also include a mini bar, coffee, and tea – as well as wifi.
The Suite Travelers Inn is Perfect for…
Backpackers on a budget. This hostel features an all-you-can-eat breakfast. The rooms are soundproof and feature a safety deposit box. The entire hostel is cozy and clean, and the staff are super friendly and helpful.
Further Reading – If you are in Hanoi, you HAVE to check out our article about some of the coolest day trips from Hanoi.
Why We Like Vitamin Smiles Hostel…
This hostel strives to connect travelers to the community they are traveling in, as well as with other travelers. The friendly staff are dedicated to making your stay with them life-changing. To make life easier, they can even help you get a visa extension.
Vitamin Smiles has mixed dorms, private rooms, and even options for long-term stays. There's a sun/moon deck, a rooftop kitchen, a book exchange, and a reading light on your bed.
Vitamin Smiles Hostel is Perfect for…
Anyone who has fallen in love with the city and wants to stay a while, or travelers looking for a more local and authentic experience. With their commitment to guests and the local community, this hostel has a lot to offer.
Getting involved and giving back to the community you're traveling in is not always the easiest thing to do; however, the crew at Vitamin Smiles has made it easy. There are a lot of free amenities that come with your stay, like breakfast from 7-11 am – which changes daily with fresh local ingredients – plus a free beer at happy hour and much more.
They offer wake up calls, late check out, express check-in and checkout, luggage storage, 24-hour reception and security – plus a tour and travel desk. The hostel also has a game room filled with board games, as well as common areas to make it easy to meet other people.
Why We Like Flipside Hostel…
Flipside is exciting; they are dedicated to helping their guests have the very best experience. The rooms are comfy and clean, and there is a swimming pool, as well as free wifi. Flipside can help you plan the ultimate adventure through Vietnam.
They have two locations – one in the north and one in the south – making it easy to have a home base no matter where you are.
Flipside Hostel is Perfect for…
Travelers looking for adventure. The hostel is owned by New Zealanders – and nobody does adventure better than a Kiwi! The staff are super helpful in creating the perfect Vietnam experience for you. They have several adventures ready to go, or you can create your own and use their hostels as home base.
Why We Like Kiki's…
This quaint hostel is highly rated amongst backpackers. It has a prime location and is sparkling clean with friendly service. There is a bar/lounge, as well as a restaurant, and breakfast is included in your stay.
If you are lucky enough to be traveling with a four-legged friend, you'll be stoked to know that Kiki's are pet-friendly! They have 24-hour reception and security, late checkout, luggage and laundry services, as well as bicycle hire and a tours/ticket desk.
Kiki's is perfect for…
Families, large groups and people traveling with pets. Kiki's has large rooms with air conditioning, family rooms, and kitchenettes. They also offer laundry services. The hostel is close to the most popular tourist attractions but is still quiet enough at night to get a good sleep. They offer free breakfast, free city maps, and unlimited free wifi. 
Why We Like Long Hostel…
Long Hostel is a home away from home. They offer clean, comfy rooms and beds, air conditioning, and family rooms. They also provide airport transfers, laundry services, and breakfast. Long Hostel is super popular and fills up fast, so make sure you book your room well in advance.
Long Hostel is Perfect for…
Solo travelers on a budget. Ideally located near local markets, the hostel is safe and comfortable, with friendly and helpful staff who can help you book excursions. The location of this hostel makes it easy to meet other groups of backpackers as well as other solo travelers.
Why We Like Koniko Backpackers…
This hostel is located in the middle of downtown, making it the ideal location for backpackers. They have dorm rooms available as well as private rooms. Some rooms even have a tv and mini bar. This hostel is super clean and comfy. The staff are always available to help you with whatever you need.
Koniko Backpackers is perfect for…
Groups of friends traveling together. With the variety of rooms and its proximity to the heart of the city, Koniko is ideal for social groups. Koniko also offers bike rentals for you to explore the city.
Why We Like Coco Hostel Bar…
Coco Hostel is a small, cozy hostel; it's more like staying with a family. There are only two rooms, but the beds are clean and comfy. There is a bar and lounge, and breakfast is included with your stay. Coco Hostel has free wifi and is also pet-friendly.
Coco Hostel Bar is perfect for…
A couple of friends traveling together or a solo backpacker. The modest size of this hostel makes it super safe and comfortable. Don't worry about getting lonely though; it's centrally located you can meet loads of other backpackers if you want to get social.
Closing Thoughts on The Best Hostels in Ho Chi Minh
Ho Chi Minh is one of the most popular destinations for backpackers. The city is beautiful, vibrant and affordable. There are various types of hostels to suit any traveler on any budget.
Accommodation is an integral part of any trip, and and it can be overwhelming trawling through google trying to figure out where to stay. But where you lay your head at night can make or break your trip, and we want to make sure you find the best hostel.
Luckily, Ho Chi Minh is filled with awesome hostels to fulfill any of your travel needs, wants and desires – your options are endless.
Hopefully, this list helped you narrow down your search with some of the highest rated hostels in the city. With so many options, you are sure to find a hostel that makes your Vietnam trip unforgettable.
Travel insurance is the best way to keep you and your belongings are safe and secure while you are traveling abroad. We have personally tested TONS of travel insurance companies, and can say without a doubt that World Nomads is the absolute best (and most affordable!). Fill out the form below to get a quote :)
***Disclaimer*** Some of the links in this post are affiliate links. This means that if you book your accommodation through the site, One Weird Globe will earn a small commission at no extra cost to you. Your support helps me keep the site going :)
Clair is a travel addict and a staff writer for One Weird Globe! A Nomad since birth, Clair has lived all over the world, calling home wherever she is in the moment. Having traveled half the world, Clair is working on a memoir about her experiences in hopes to inspire others to travel and experience this amazing planet!
Latest posts by Clair Ricketts (see all)