Inflatable hammocks are a quick and easy way of getting comfortable whatever the terrain and wherever you find yourself. Unendingly transportable, you can set them up in just a couple of minutes on the beach, in the park, or by the pool, to name just three.
What do you need to look for when buying an inflatable hammock? What are the pros and cons? Check out our picks of the best inflatable hammocks below for all you need to know before placing your order!
Quick Summary: The Best Inflatable hammock
Best budget inflatable hammock

WooHoo inflatable hammock

Check Price on Amazon

Best high-end inflatable hammock

Chillbean Inflatable Hammock

Check Price on Amazon

Best inflatable hammock for backpackers

iZEEKER inflatable lounger

Parachute grade material, wipeable

Check Price on Amazon

Best inflatable hammock for camping

Back2Earth Premium Inflatable Lounger

Packs down small, Side pocket

Check Price on Amazon

Best inflatable hammock for couples

WEKAPO Inflatable Hammock

Comprises ripstop polyester, weighs 2.7 lbs

Check Price on Amazon

Best inflatable hammock for one person

WindPouch Lite

Holds air for 8 hours, Head rest

Check Price on Amazon
Best budget inflatable hammock
The WooHoo inflatable hammock is another good-sized model, measuring in at seven feet long by three feet wide when fully inflated, giving you plenty of space in which to lounge without feeling cramped or as if you're spilling over the hammock onto the ground!
We think this makes the perfect inflatable hammock for those on a budget because it includes features such as the built-in cup holder in addition to a pouch for a smartphone or other small items you want to keep at hand while relaxing in the sun.
The WooHoo is also supplied with a short (five feet) length of rope, to secure the inflatable when you're not on it – another useful addition.
Is the WooHoo inflatable hammock for you?
Sharing all the features of the top inflatable hammocks on the market, including a good-size and tough nylon construction, the WooHoo inflatable hammock also boasts those little extra features, such as the integrated cup holder, that soon pay for themselves despite the budget price!
Best high-end inflatable hammock
With a good reputation for high quality products, the Chillbean inflatable hammock is a great option for those seeking out an inflatable hammock that is a little more refined.
At six feet long and three feet wide after inflation, there's plenty of space for even the tallest of users, while the weight capacity is more than enough for a single hammock. Comprising of lightweight material totaling just 2.3 lbs, it can stay inflated for more than 12 hours.
There are two integrated pouches to store smaller items such as smart phones in. The Chillbean also comes with a two year patch warranty, should your inflatable hammock face any issues.
Is the Chillbean Inflatable Hammock for you?
If high-end is your middle name you'll very much appreciate the quality put into this inflatable hammock by the Chillbean brand. This good-sized inflatable hammock is made from materials that are sure to last, so all you have to do is enjoy yourself!
P.S. –  Protect your cash while traveling with our EPIC guide to the coolest travel money belts!
Best inflatable hammock for backpackers
Backpackers will love the fact this inflatable hammock from iZEEKER packs down really small when deflated, meaning it's not going to take up unnecessary amounts of space in your rucksack.
As you might expect from an inflatable hammock, its lightweight too, although still very tough as a result of its construction from parachute grade nylon material. Filled with just a couple of well-practiced scoops of air, it will retain the air for up to six hours before any need for refilling, giving you a relaxing afternoon or evening of pleasure without any extra effort.
Helpfully, given the likelihood of staining while in the great outdoors or when traveling, this hammock can be wiped down with a damp cloth when you get home too.
Is the iZEEKER Inflatable Hammock for you?
Ideal for backpackers of all ages, the iZEEKER inflatable hammock will fit easily into anyone's rucksack thanks to its small pack-down size, won't trouble you with excess weight because of its lightweight design, and can even be given a gentle scrub on your return. That's smart!
Best inflatable hammock for camping
We're recommending the Back2Earth Premium Inflatable Lounger as our best inflatable hammock for camping for a number of very solid reasons.
Firstly, Back2Earth swear that this inflatable hammock can be inflated in as little as five seconds – that's not a typo – five seconds! Secondly, this inflatable hammock is also lightweight and packs down to a small size, both of which are incredibly important when heading out on a camping adventure.
Thirdly, the Back2Earth inflatable hammock comes equipped with an in built pocket or pouch on its side, so there's somewhere to keep all those smaller items you need to keep close at hand while camping.
Is the Back2Earth inflatable lounger for you?
If you're off on a camping trip and are looking for an inflatable hammock to make that hard terrain a lot more comfortable to relax on, then the Back2Earth inflatable lounger is a great option. Combining all the features a camper would be looking for in a piece of kit, you won't regret choosing the Back2Earth inflatable lounger.
Editor's Note – Have you checked out our post about the most AMAZING Tandem Kayaks?
Best inflatable hammock for couples
While few inflatable hammocks are designed with a double capacity in mind, there are those, such as the WEKAPO inflatable hounger, which have a weight capacity that makes it more than possible for a couple to share a single inflatable.
Stretching out to seven feet in length, it can support a maximum weight of 500 lbs, more than enough for two average adults! What's more, the WEKAPO inflatable hammock solves the problem of awkward head positioning with a patented pillow-shaped head rest at one end.
It will hold its captured air for up to six hours. Buying the WEKAPO, you also receive a handy carry bag, ground stake for securing the inflatable hammock, and yes, a bottle opener!
Is the WEKAPO inflatable hammock for you?
The extra thick plastic inner and thicker ripstop polyester outer layers help create an air seal that will hold air not just today, but again and again. And all this while being able to support 500 lbs in weight and being one of the lowest weighing inflatable hammocks on our list! How do WEKAPO do it? That's what we want to know!
The Best Travel Backpack EVER MADE!?!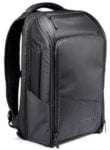 We are obsessed with backpacks – we've tried them all! And our favourite carry on backpack in the WORLD is the Nomatic Travel Backpack. This backpack has revolutionized the backpack industry and will change the way you travel forever :) Check it out here!
Best inflatable hammock for one person
Weighing a very reasonable 2.6 lbs, the WindPouch Lite inflatable hammock is capable of supporting a weight of 450 lbs, meaning two full-grown adults can enjoy time on the hammock without any worry despite this being a single-person model!
The ripstop polyester construction will ensure this inflatable hammock is durable enough to cope with the natural ground chaffing that comes with using such a product, and the WindPouch Lite will happily hold it's contained air for up to eight hours at a time.
There's also a rest at one end to rest your head on, should you prefer a slightly raised position while lying down.
Is the WindPouch Go for you?
If there are two or three of you wanting to enjoy the comfort of an inflatable hammock, whether a couple or simply friends, save set up time and space in your bags by opting for the WindPouch Go, large enough to support all of you with ease!
Recommended Article – Take a look at our amazing guide to the best travel Jackets on the market!
Best of the rest
Taking its tongue-in-cheek name from the main character in JRR Tolkien's The Hobbit, there's nothing tongue-in-cheek about these second generation inflatable hammocks.
Aimed firmly and squarely at trend setters and those who love a bit more pizzazz in their lives than a simple block of color can provide, you'll be the envy of everyone with a Chillbo Shwaggins 2.0 inflatable hammock.
Weighing in at 3 lbs, and with a maximum capacity of 400 lbs, this is certainly one of the better quality inflatable hammocks on the market, meaning you'll be able to recycle it for a good few summers to come! Should you need, there's a stretchy pocket to the side for smaller items too.
Is the Chillbo Shwaggins 2.0 for you?
Heading off to a festival, to the park, or even the back yard? Have a Chillbo Shwaggins 2.0 inflatable hammock in tow and you'll be fending off questions about where you found it. A good high quality product, its durable enough to last more than one season, which matching the features of many of the other inflatable hammocks on the market.
Can it get any more laid-back than the Chillbo Baggins 2.0 we've just reviewed? Well, maybe it can with the ChillPill, one of the only inflatable hammock we've managed to find that comes with its own bottle opener!
Weighing in at less than 3 lbs (2.8 lbs to be exact), the ChillPill also boasts a lighter weight than many competitors, while still being able to take the same capacity of 400 lbs.
The closure and buckle helps keep all the air you've captured locked in for as long as possible, while a ground stake ensures you don't have to keep finding something to weight the ChillPill down when you get up so that it doesn't blow away in the breeze. And should you be wondering, you'll find the bottle opener in the strap.
Is the ChillPill inflatable hammock for you?
Coming in at a lighter weight out of the packet than many of its rivals, the ChillPill is a great inflatable hammock for anyone who doesn't enjoy carrying excess weight around with them just for the sake of it. And while the integrated strap bottle opener isn't going to trigger a revolution any time soon, its certainly a great talking point!
Recommended Article – Save a bit of cash while hiking – Check out our guide to the most awesome baby carriers for hiking!
If you thought 2.8 lbs was light for an inflatable hammock, then you'll also be impressed with the Monobeach Air Lounger, which comes in at exactly that weight.
The careful attention to weight hasn't stopped the brand managing to squeeze in a few extra inches in length over its rivals however, with the aim of making it even more comfortable!
Holding its air for a good five hours, the Monobeach inflatable hammock has a good weight capacity of 440 lbs, which is more than enough for one person, so there's really nothing to stop you hitting the order button on this one!
Is the Monobeach Air Lounger for you?
A good overall size when inflated, and a good weight too, the Monobeach Air Lounger is a very sensible all-round choice when it comes to an inflatable hammock. Though its styling may not blow you away, its going to do what you bought it for without issue!
We had to include the Prodigen inflatable lounge hammock on your list of the best inflatable hammocks because we just love the effort that has clearly gone in to creating the specific head rest – an extended area at one end of the hammock aimed to abolish the crick in your neck you can get when lying without support for a long time.
The double layer design also means the Prodigen is more comfortable than other inflatable hammocks you might have an eye on, and less likely to leak too.
In fact, this works so well air can be held within this hammock for up to eight hours, a significant improvement on competitors! If that wasn't enough, the Prodigen is also fully water proof, meaning you can use it on the water too!
Is the Prodigen inflatable hammock for you?
If you've ever repeatedly suffered from a crick neck, or would simply like to be able to read, or take to friends more easily while enjoying the experience of being on an inflatable hammock, the why not opt for the Prodigen? Its raised head and neck rest removes that obstacle to your day in one easy fix!
Further Reading – Love the outdoors? Check out our bargain guide to the adventurous hiking sandals!
Ready for anything, from a picnic in the park to a weekend at a music festival, the AlphaBeing inflatable hammock is easy to inflate yet is made with anti-deflation technology which the company claims will keep their inflatable hammock usable long after others have needed refilling.
Supporting around 400 lbs in weight, the AlphaBeing is made with high grade ripstop material, and is shaped with a head rest of sorts at one end. One side of the hammock includes two large mesh pockets, while the other has an elastic strap to hold a drink in place!
Should you need one, there's an integrated bottle opener, and perhaps more importantly, a ground stake to keep your AlphaBeing firmly on the ground even on windier days.
Is the AlphaBeing inflatable hammock for you?
If you're looking for a mid-range inflatable hammock to see you through the warmer weather or your vacation time the AlphaBeing inflatable hammock shouldn't discounted. There's all you need to get comfortable in the sun – from a raised head rest to handy pockets!
Lie back and relax!
Struggling to find the ideal inflatable hammock for you? Your problem should now be solved with our extensive range of the best inflatable hammocks you can find around.
Having scoured every corner and back cupboard of the internet, we assure you that you won't find any better inflatable hammock than those in our comprehensive review.
While their basic design and utility are similar, each has its own unique touches, or a feature you might prefer, so give our guide good scrutiny before you hit that order button! You'll be lying back in the sun before you know it!
Editor's Note – No matter where you are traveling, you NEED to have great travel insurance. We have personally tested TONS of travel insurance companies, and can say without a doubt that World Nomads is the absolute best (and most affordable!). Fill out the form below to get a quote.
***Disclaimer*** Some of the links in this post are affiliate links. This means that if you book your accommodation through the site, One Weird Globe will earn a small commission at no extra cost to you. Your support helps me keep the site going :)
Latest posts by Aaron Radcliffe
(see all)