Packing cubes are a true godsend, helping compress and organize baggage whether you travel with a wheely suitcase, duffle, or backpack and whether you're a minimalist packer or someone who takes a whole load of kit just in case.
Though simple in concept, a huge array of packing cubes have made it onto the market in recent years, making it tough to know which you should opt for.
Here we outline the very best packing cubes around with the aim of making your final decision a whole lot easier!
Quick Summary: The Best Packing cubes (60,000)
Best overall packing cubes
Making it really easy on the organization front, the Flight 001 Spacepak packing cubes are differentiated both by bright non-confusable colors and by purpose. The three packs are graduated in size, with the smallest intended for toiletries, the middle size for shoes, and the largest size in the grouping for your clothes.
There are even images on the top of the cubes should you have a lapse in memory. Zippered for secure closing when on the move, each packing cube has a handle to make them easy to grab and removable from the depths of a bag.
But what we really love about the Flight 001 Spacepak (apart from the cool color palette of course) is the double compartment in the interior of each of the cubes which helps to keep dirty and clean separate by unzipping.
Pros
Very cool look
Differing colors
Carry handles
Interior double compartment
Cons
Only three cubes
Dedicated purposes may not fit every traveler
Price
Not for business travelers
Are the Flight 001 Spacepak cubes for you?
If the colors and cool design aren't enough to have you lusting after the Flight 001 Spacepak packing cubes, then surely the super neat interior double compartment will – unzipping to ensure dirty and clean items are always kept separate. Very clever!
Editor's Note – You can also check out our article about the best Travel Towels.
Best budget packing cubes
If budget is key, then the AmazonBasics four-piece packing cube set is a great choice. Containing two large and two medium sized packing cubes the set provides an excellent range of packing options, with blazers and jackets fitting folded into the larger cubes and shirts and blouses in the medium versions.
The 100% polyester construction is fully machine washable, which is great for refreshing the cubes on your return from your vacation, and the cubes also comprise a double zipper for speed of access.
A mesh fabric upper panel means spotting the contents while the cubes are still closed is very easy, while each cube also has a mesh handle.
Pros
Great price
Four-piece set
Machine washable
See-through top panel
Cons
Only two sizes
Material can deform if over packed
Polyester
Not as stylish as others
Are the AmazonBasics Packing Cubes for you?
For a very tempting price, you get four machine washable packing cubes! How can you fault that? These packing cubes are also good sizes for the average traveler, and make it really easy to spot contents because of the mesh upper panel – which also helps with breathability too.
Best packing cubes for compression
Organization is only half the battle when it comes to packing and using packing cubes. The other half of the battle is making sure everything fits, which can be much harder than it sounds.
Its always surprising how much additional space compression of your kit can create, so using a packing cube set which also compression your luggage is well worth considering.
Coming in a set of three – with small, medium and large packing cubes each with the same depth of four inches – the Compression Packing Cubes by LeanTravel have another trick up their sleeve. An additional external zipper can reduce the depth of each from that four-inch initial offering to an incredible one inch!
Pros
Compresses and organizes
Helps reduce wrinkles
Good styling
Have anti-catch zippers
Cons
Cubes may be too small for some
Close to 600g in weight
Polyester construction
Grey
Are the LeanTravel Compression Packing Cubes for you?
With the ability to compress as well as organize, the LeanTravel Compression Packing Cubes set is sure to be of benefit to any traveller. The graduated sizing makes it easy to enclose (and compress) everything from underwear to trousers, and the ability to reduce down to a quarter of their depth is an incredible one indeed!
Further Reading – Have you checked out our post about the most AMAZING Tandem Kayaks? 
Best packing cubes for organization
A long-standing bestseller, the Shacke Pack packing cube set is an incredible option for staying organized because of the fact the pack contains a set of four packing cubes, each of which is a different size. A laundry bag that can double as a shoe bag is also thrown into the mix for good measure.
The cubes themselves are made from tough water resistant nylon specifically designed to withstand all the rigors of travel, with x-design stitching reinforcing the each cube's upper panel to help prevent any deformation taking place. Each cube has a small mesh window to help identify contents more easily, and are hand washable.
Pros
Four different sized cubes
Additional laundry bag/shoe bag
Water resistant
Mesh window
Cons
Not water proof
Hand wash only
Single depth of 4 inches
Mesh window could be larger
Are the Shacke Pack Packing Cube Set for you?
When you need help with organizing your baggage there's really only one place to turn – the Shacke Pack Packing Cube Set! Comprising four different sizes, you'll find the right space for all your clothing and other items, and will be able to spot them easily thanks to the addition of the mesh window on each one.
Best packing cubes for business
We haven't chosen the Eagle Creek Pack It starter set as our best packing cubes for business because they are a self-proclaimed starter set, but because of their combination of appropriate looks and utility.
Coming in a set of three, the set comes with two double zippered traditional packing cubes of differing sizes and a 'garment folder' which is perfect for anyone trying to keep business wear free of creases while traveling.
The set is also designed to be able to compress a minimum of eight shirts without them creasing. Of a sturdy construction, they have mesh windows in each for identification of belongings and a very business-like appearance.
Pros
Look the part
Set of three items
Dedicated garment folder
Also compresses
Cons
Not for backpacking
Weighty
Only two packing cubes
Not water proof
Is the Eagle Creek Pack It Starter Set for you?
The Pack It Starter Set by the people at Eagle Creek are ideal packing cubes for a business trip. Not only do they look they part, but the set also includes the special garment folder to keep all your business wear crease free as you travel!
MUST READ – Check out these awesome travel jackets! 
The Best Travel Backpack EVER MADE!?!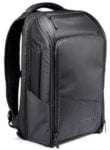 We are obsessed with backpacks – we've tried them all! And our favourite carry on backpack in the WORLD is the Nomatic Travel Backpack. This backpack has revolutionized the backpack industry and will change the way you travel forever :) Check it out here!
Best packing cubes for backpacking
Designed to endure all that frequent travel might end up throwing at them, these packing cubes from Zero Grid are equally at home in the rough and tumble world of the backpacking fraternity, where bumps and scraps are part of everyday life.
Nice and lightweight, which is all important when carrying your own kit on your back, the Zero Grid cubes are still durable.
The tough zippers that seal in your clothing and other travel necessities have grippy ties to make opening and closing the cubes easy even with sweaty or greasy hands, while the fact there are four in the set seems to us to be the perfect balance between cubes offering too much and too little space.
Pros
Great for backpacking
Lightweight
Durable
Set of four
Cons
All four cubes the same color
A little small for some backpackers
Grippy ties might catch
Only available in UK
Are the Zero Grid Packing Cubes for you?
Backpacking has its own challenges, not least among them the need to keep clothing and other kit in tip top condition sometimes in trying circumstances. The Zero Grid Packing Cubes help keep this a reality rather than a pipe dream thanks to their own sturdy construction!
Best of the rest
For some reason no one can explain successfully, it can be really difficult to find the item you're desperately searching for even in a packing cube simply by looking.
And though mesh windows or mesh upper panels certainly helps, why not go the whole hog and create a PVC packing cube that's clear enough to see all the way around? Well, that's exactly what TRANSVERS have come up with!
The PVC material used also has the added advantage of being water proof to ensure your kit will remain dry whatever the circumstances, or of course use them to store towels and other items that haven't dried before you need to move on.
Pros
Great visualization
Water proof
Graduated sizes
Durable double zippers
Cons
Not compressing
Not very breathable
No carry handles
A little plasticky in touch
Are the TRANSVERS Waterproof PVC Packing Cubes for you?
We think these packing cubes are a great solution to the age old problem of trying to find that specific item without emptying out an entire packing cube. Small enough to pretty much see everything inside, but large enough to be useful, the TRANSVERS Waterproof PVC packing cubes would make a great addition to anyone's baggage.
Editor's Note – If you are planning on traveling, you'll need a reliable Daypack.

Packing cubes offer the chance to compress and organize your luggage space more effectively to make traveling easier and find space where you didn't think there was any space to find.
However, if you start using a lot in a large suitcase, on for example a vacation for a family of four, they can begin to add a significant weight. If this is the case for you (no pun intended), you should try these Ultra-Light packing cubes from Uncharted.
Made from very lightweight nylon each cube weighs in at just 4 ounces, while still managing to be strong and durable. The stylish design includes a large mesh window for contents viewing, and metal double zippers that aren't going to bust any time soon.
Pros
Lightweight
Strong
Stylish
Zipper closures
Cons
Cuboid rather than cubes
Not water proof
No additional compression
Some users might need more cubes
Are the Uncharted Ultra-Light Packing Cubes for you?
Why carry more weight around than you have to? In which case, why opt for anything other than the Ultra-Light packing cubes made by Uncharted? At just four ounces each you won't even notice these guys are there – except of course for the supremely organized suitcase!
The ebags Packing Cubes Set comes as a set of three rectangular packing cubes graduating in size from small to medium and large.
Made from a nylon material, these packing cubes are both lightweight and durable and come with a nice choice of colors that are a little funkier and out of the ordinary than other packing cube sets out there on the market.
Strong double zippers help keep everything enclosed, while a large area of mesh across the upper panel surface makes spotting items a breeze. However, the thing that sets eBags packing cubes out from the crowd is probably their spring-loaded support, which means they're able to keep their shape even when they're not stuffed full.
Pros
Graduated
Lightweight nylon
Mesh upper
Spring-loaded support
Cons
Set of three
No additional compression zipper
Not water proof
Probably not for business travel
Is the eBags Packing Cubes Set for you?
Need a set of three graduated and funky packing cubes for your next vacation? Look no further than the eBags Packing Cubes Set! Maintaining their shape even when not full to exploding, these lightweight packing cubes will add definite utility as well as color to your luggage.
Recommended Article – Have you checked out our article about the most awesome Carry on Backpacks?
This four piece set of medium-sized packing cubes by Dot & Dot is great for anyone who wants to compartmentalize their luggage into sections for ease of access without going overboard with different sizes and functions.
To help distinguish each cube from the next, the team at Dot & Dot supply four very different colors in each set (as well as plainer sets), while a large panel mesh window in the top helps differentiate the content.
Like many other of the packing cubes we've reviewed, these by Dot & Dot are made from lightweight and durable nylon, so you'll face no issues there. Styled a little like a vintage wireless radio, we really rate the look too.
Pros
Four piece set
Differentiated by color
Mesh window
Durable nylon construction
Cons
Each cube is the same dimensions
Not water proof
No compression zipper
Not for business travel
Is the Dot & Dot Medium Packing Cubes set for you?
Its true that some travelers may prefer having a set of packing cubes of different or graduating sizes. That aside, these colorful and nicely designed packing cubes from Dot & Dot will help keep your bags in order without the intricacies of worrying about what should go where.
This four piece set from Bago contains two different sizes of packing cube, two medium and two large, making it easy to divide your luggage into smaller and larger items.
Looking something like a miniature suitcase, each cube whether of the medium or large size has a double zipper on the edge of the upper panel, a mesh window to see the contents inside, and a basic webbing handle on the narrower side to make shifting the packing cubes about hotel rooms a little easier.
Comprised of ripstop nylon fabric, you shouldn't face any issues with durability, even if you're a frequent traveler.
Pros
Comes with two sizes
Mesh window
Handle
Constructed with ripstop nylon
Cons
No smaller size
Four piece set
Not water proof
Can lose their shape
Are Bago Travel Packing Cubes for you?
Offering a very sensible option of two medium and two larger packing cubes, this Bago set will be the right preparation for pretty much any traveler looking to organize their luggage more successfully. The ripstop nylon means the cubes are safe from accidental snags, while the handle makes life on the road just that little bit easier!
The very best in packing cubes
Packing no longer needs to be a chore thanks to this huge array of packing cubes! Whether you're traveling on business, a backpacker, have a serious need for compression, or need help when it comes to organization, we've highlighted the very best in packing cubes for you!
Editor's Note – No matter where you are traveling, you NEED to have great travel insurance. We have personally tested TONS of travel insurance companies, and can say without a doubt that World Nomads is the absolute best (and most affordable!). Fill out the form below to get a quote.
***Disclaimer*** Some of the links in this post are affiliate links. This means that if you book your accommodation through the site, One Weird Globe will earn a small commission at no extra cost to you. Your support helps me keep the site going :)
Clair is a travel addict and a staff writer for One Weird Globe! A Nomad since birth, Clair has lived all over the world, calling home wherever she is in the moment. Having traveled half the world, Clair is working on a memoir about her experiences in hopes to inspire others to travel and experience this amazing planet!
Latest posts by Clair Ricketts (see all)