There's a well-known Swedish saying that states 'there's no bad weather, just bad clothing', and if any nation's people should know, its snowy Sweden!
Bad weather doesn't have to mean you put your long-held adventure plans on hold. With a good pair of rain pants in your wardrobe, you can remain dry and warm on even the wettest of wet weekends. Today, with all the big outdoor brands producing rain pants, there's really no excuse for not owning a pair and having to delay your planned time outdoors just because of the weather.
So, what are the best rain pants around? Discover all you need to know with our expansive reviews!
Best rain pants for women
These elasticated lockable drawstring waist rain pants by Montane are, all importantly, made with fully waterproof (and also breathable) Pertex Shield synthetic materials, so you'll be kept dry from the weather and from your own perspiration too.
Articulated knees are a great help for the high steps you might encounter off the beaten path, while hook and loop tabs on the calf help wearers narrow this part of the pants both for comfort and to limit the battle with the wind.
These pants also boast quarter-length YKK-made zippers at the elasticated ankle, providing further breathability, and making it really easy to slip these pants over a pair of heavy hiking boots!
Pros
Fully water proof
Articulated knee
Reducible calf
Ankle zippers
Cons
Drawstring/elasticated waist
Slightly 'shiny' look
No pockets
Only black available
Are the Montane Minimus Pants for you?
Not only are the women's Montane Minimus pants fully water proof, but also breathable, and constructed with a number of useful outdoor features – including the articulated knee, reducible calf, and ankle zippers. All in all then, the Montane Minimus are a great pair of rain pants for women!
P.S. – Luckily, we've compiled this guide of the best baby carriers for hiking
Best rain pants for men
Check out a couple of our other gear reviews, and you'll soon discover that Patagonia is one of the those dedicated outdoor brands that we have a soft spot for! Why's that? Simply because Patagonia has consistently produced phenomenal outdoor gear for years and years.
Their Torrent Shell pants are just another example of this. Constructed from a two and a half layer 'H2NO' water proof and breathable standard shell, these rain pants come with an eco-friendly 100% recycled nylon face. There are articulated knees, elasticated cuffs, and DWR (durable water resistant) ankle zippers that extend right up to the knee.
This makes it very easy to slip these rain pants on and off, as well as acting as additional ventilation. Finally, the Torrent Shell pants include two handwarmer pockets, and the ability to self-stuff the pants into one of the pockets.
Pros
5 layer H2NO water proofing
Elasticated cuffs
Treated ankle zippers
Pockets
Cons
Only in black
Drawstring waistband
A little long in the leg
No reducing calf
Are the Patagonia Torrent Shell pants for you?
As pared down rain pants go, the Patagonia Torrent Shell pants are without doubt one of the best. These pants will keep you dry pretty much however fierce the weather becomes, will offering breathability and ventilation. There's also the added knowledge that these pants are constructed not only with water proof materials but with 100% recycled nylon!
MUST READ – Take a look at our guide about the best travel jackets!
Best rain pants for hiking
These men's Outdoor Research Helium pants (and the women's Aspire pants version) are made using 20k water proof and breathable Pertex Shield material but are still incredibly lightweight making them great for hikes long or short in duration.
Elasticated at both waist and ankle for a comfortable fit that's easy to slip on and off, there are also ankle zippers rising to mid-calf to aid their use with large hiking boots as well as providing extra ventilation should it be needed.
Shrinking down to the size of an energy bar, the Helium pants by Outdoor Research, are a good option for those wanting to travel with as little weight as possible, or those taking these pants for 'just in case there's a rain shower' scenarios.
Pros
Water proof and breathable Pertex Shield material
Very lightweight
Front hand pockets
Ankle zippers
Cons
Imported for US customers
No drawstring at waist
'Shiny' look
No reducing calf
Are the Outdoor Research Helium pants for you?
These lightweight and uber-packable rain pants are a superb option for hikers. Leave them in a daypack – or even pocket – if the weather's good, then slip them on in just a couple of seconds if it gets muddy or the rain starts a-falling. Water proof and breathable, the Outdoor Research Helium pants include a couple of useful pockets and ankle zippers like the other rain pants we've already reviewed.
Further Reading – Have a look at the most awesome hiking sandals!
Best rain pants for work
If you're going to work in a pair of rain pants, they're going to be suitable for such an environment. If this possible? It is with the Comfort-fit Rain Over Pants from 5Oaks. They are made from 100% ripstop polyester, which means if you do manage to catch them when working the resulting tear will be limited to just the tiniest extent.
The comfort-fit elasticated waistband comes complete with a lockable drawstring for the ultimate in correct sizing, while the ankles feature poppers to reduce the diameter in size should that be desired.
These rain pants also come with a couple of front zippered pockets (and another on the left thigh), making them very useful for anyone intent on continuing their work in the rain.
Pros
100% ripstop polyester
Multiple zippered pockets
Lockable drawstring
Machine washable
Cons
Imported for US customers
Cannot be tumble dried
Wash on cool cycle only
Choice of only two colors
Are the 5Oaks Comfort-fit Rain Over Pants for you?
A lockable drawstring waistband, three zippered pockets including a left thigh pocket, and 100% ripstop polyester design. What more could you want from a pair of rain pants for work? How about the ability to machine wash after a hard day, and an ankle width that can be temporarily reduced too? You get all that with the 5Oaks Confort0fit Rain Over Pants!
Check this out! Our complete guide about the best tavel strollers!
Best rain pants for biking
There's nothing worse than getting caught out in a rain shower when on a bike – after all, your options are limited to stopping somewhere safe and waiting it out, or continuing on and getting soaked, particularly in the legs because of the seated position you're in.
Although not specifically made for biking, the Colombia Rebel Roamer Pant, available in both men's, women's (as the Storm Surge Rain Pant), and big and tall versions, is still a good option worth considering.
They are constructed from 70 Dernier 100% Omni-tech nylon material and have fully sealed seams to ensure no water ingress. They also have an elasticated waistband, and hook and loop adjustable ankle cuffs!
Pros
Men's, women's, and big and tall versions
Made fro 70 Dernier 100% Omni-tech nylon
Fully sealed seams
Hook and loop cuffs
Cons
No pockets
No drawstring at waist
Some sizing difficulties
Straight leg cut
Are the Colombia Rebel Roamer Pants for you?
Featuring 70 Dernier 100% Omni-tech nylon material, the Colombia Rebel Roamer Pants would make a good choice for anyone seeking out the best rain pants for biking. Though they include no pockets, they do have fully sealed seams, an elasticated waistband, and hook and loop adjustable ankle cuffs.
The Best Travel Backpack EVER MADE!?!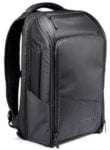 We are obsessed with backpacks – we've tried them all! And our favourite carry on backpack in the WORLD is the Nomatic Travel Backpack. This backpack has revolutionized the backpack industry and will change the way you travel forever :) Check it out here!
Best rain pants for golf
The fact these rain pants for golf from Adidas are machine washable makes them very easy to look after even if you find yourself short of time. But not only that, the 100% polyester make-up of the Adidas Golf Climastorm Provisional Rain Pants protects you from rain, snow, and wind too.
There's a drawstring on the elasticated waistband to ensure a good fit, side seam pockets, and a reverse-entry back Welt pocket. What's more, you'll find Velcro cuffs on the ankle, to reduce the diameter of the leg and limited water ingress via this entry point too. When not being worn, the Climastorm pants pack down really small, to a size of just 1 x 1 x 1 inches.
Pros
Dedicated golf rain pants
Elasticated drawstring waistband
Side seam pockets
Ankle cuff
Cons
No ankle zippers
Single color available
Not ideal for adventure hiking
No reducing calf
Are the Adidas Golf Climastorm Provisional Rain Pants for you?
These dedicated Climastorm Provisional Rain Pants by Adidas are specifically made with golfers in mind, and as such offer all the protection from the weather you might need when enjoying a round of your favorite past time!
Editor's Recommendation – You should definitely check out our guide on the best travel hammocks!
Best rain pants for cycling
When heading out for a day of hard cycling you certainly don't want the weather to get the best of you, yet you also need the flexibility and versatility to ride unhindered by the use of baggy of heavy rain pants.
The answer? The Stretch Ozonic Pants by Mountain Hardware. With men's and women's versions available, these rain pants come with buckle/button close elasticated waists and have a very accessible zippered thigh pocket ideal for when you're in the saddle.
They also boast Velcro ankle cuffs, so you can stop the hems catching on your gears, and in addition to their stretch, are also water proof and breathable!
Pros
Water proof, breathable, and stretchy
Buckle or button close waist
Zippered thigh pocket
Velcro ankle cuffs
Cons
Not dedicated cycling rain pants
Imported for US customers
Only available in black
No reducing calf
Are the Mountain Hardware Stretch Ozonic Pants for you?
Combining weather proofing with the needs of cycling isn't the easiest thing in the world, however, it is made much easier with the Mountain hardware Stretch Ozonic Pants! Water proof, breathable, and stretchable for flexibility and versatility of movement, these rain pants are sure to keep you dry as you tackle a day on the trail however rough the weather turns out to be!
Best rain pants for fishing
Fishing is all about getting wet, right? Wrong! Don't let a downpour first thing in the morning ruin your whole day's plans with these rain pants from Grundens. Made with the dedicated fisherman or woman in mind, the Weather Watch Pants are a medium duty rain pant that's far more than just a water proof bottom.
Designed to be able to cope with rugged conditions, they are constructed with a lightweight nylon made from a tough Oxford weave. They are breathable, preventing the build-up of perspiration, have an adjustable belt around the waist, and adjustable ankle closures too.
Pros
Made specifically for fishing
Tough and durable
Lightweight
Multiple pockets
Cons
Run long
No elasticated waist
Lacks a way to adjust the calf
Not ideal as a hiking pant
Are the Grundens Men's Weather Watch Pant for you?
If you're an avid follower of fishing, you'll want a pair of rain pants that meet the requirements of your favorite past time, which is exactly what the Grundens Men's Weather Watch Pant do! Lightweight but rugged thanks to their Oxford weave nylon, they also have plenty of pockets, adjustable openings, and great breathability too!
Recommended Article – Love kayaking? Check out these amazing tandem kayaks for all budgets!
Best rain pants for toddlers
If there's one group of people who enjoy getting muddy and splashing about in the rain its toddlers! Instead of rushing to drag them away from this messy pursuit, why not let them have fun, and buy them a pair of rain pants to keep them warm and dry?
These baby and kids rain pants by Playshoes not only have an easy to use waist adjustment system, but also a raised waist that helps also protect the lower chest of your toddler. Shoulder straps stop these rain pants slipping, as do underfoot elasticated straps, and elasticated ankle cuffs.
Coming in a great range of colors from black to bright red, they also incorporate reflectors to help make your toddler visible whatever the weather and time of day!
Pros
Adjustable waist
Chest protection
Shoulder and foot straps
Inbuilt reflectors
Cons
Imported from Germany for US customers
Some children may find them restrictive
Requires hang drying after washing
100% synthetic
Are the Playshoes Unisex Baby and Kids Rain Pants for me?
A lifesaver for any parent or guardian who has a toddler that likes nothing more than splashing about in the puddles, not only are these toddler rain pants fully water proof, but also designed with wriggling toddlers in mind. What's more, they come in a range of colors, and include safety reflectors whatever color you or your toddler opt for!
A more traditional rain pant that those by Playshoes, the i Play Baby Rain Pants come with easy on-and-off elasticated waist and ankle cuffs. Made with 100% woven polyester with a water proof coating, they are PVC-free, and also machine washable.
They can be used as either a rain pant on their own or as an over pant on top of other toddler bottoms. Since they are lightweight in construction, your toddler won't feel overburdened or weighed down when using them. What more could you want for keeping your toddlers dry?
Pros
On-and-off elasticated waist and ankles
100% woven water proof polyester
PVC-free
Machine washable
Cons
No additional adjustability
No pockets
Pared back design
Synthetic
Are the i Play Baby Rain Pants for you?
For anyone looking for a simple pair of rain pants for a toddler, these fit the bill! Made with a PVC-free woven polyester from the best water proof performance, you definitely won't have an issue with your toddler running about in the puddles with a pair of these on, either as their main bottoms or as an over pant!
Editor's Note – Check out these awesome travel pillow!
Best rain pants for backpacking
The Marmot PreCip Lightweight Water proof Pants are ideal rain pants for backpacking for a number of important reasons. First of all, these rain pants are lightweight, meaning that whether on or off, you won't feel like you're carrying around an excessive amount of weight. That said, they still manage to be both water proof and breathable thanks to their construction from NanoPro ripstop nylon material.
Full-length side zippers make the PreCip pants quick and easy to put on and off, while multiple zippered pockets provide space for all those items you need even if it is raining. Finally, they are machine washable, so however dirty you might get when backpacking, these rain pants are easy to clean and return to the wardrobe for next time.
Pros
Lightweight
Breathable
Have full-length leg side zippers
Multiple pockets
Cons
No stretch
Regular cut
No ankle cuffs
No drawstring at waist
Are the Marmot PreCip Lightweight Water proof Pants for you?
The short answer? Undoubtedly yes! The Marmot PreCip Lightweight Water proof pants would make a great addition to any backpacker's kit list not only because of their lightweight nature, but also because of their breathability, full-length side zippers, and a multitude of zippered pockets!
Best rain pants for running
Don't stop running just because it's raining! Let's face it, in some parts of the world that would mean you never put your running shoes on again! Instead opt for a rain pant that you'll be happy to use while pounding the sidewalks and eating up the miles, such as the 4ucycling Athletic Pants.
These rain pants are made from double layer polyester that gives them water repellent properties without them limiting that all important flexibility. 15% spandex gives them a good amount of stretch, while the zippered pockets mean you won't have to worry about losing your smartphone or music player while out and about.
Pros
Double layer water repellent
Stretchable
Zippered pockets
Articulated knees
Cons
Not fully water proof
Fleece lining may be too hot for some
Sizes run small
Not as breathable as other rain pants
Are the 4ucyclung Athletic Pants for you?
Ignoring the brand name, these rain pants should absolutely be considered a possibility when looking for a new pair of rain pants for running. They offer a good level of water resistance while remaining stretchy and flexible enough that they're not restricting in movement.
How to choose the best rain pants for you
Here are a few points to think about when deciding which of our sublime choices are going to become the best rain pants for you.
Construction materials
You're going to want a pair of rain pants that are not only fully water proof, but also breathable, and of course durable too. Look out for well-known construction materials such as Pertex, while bearing in mind the big brands might be using a similar material of their own invention.
Fit
While most pairs of rain pants on the market have a baggier, looser, fit so that they can be quickly pulled on and off, perhaps on top of another pair of bottoms, there is still some choice out there to best meet your own personal preferences.
Many pairs of rain pants will also have ways of adapting the fit – with reducible calves, ankle cuffs, and ankle zippers being among the most common.
Pockets
This is something of a dividing line in rain pants. Some brands produce rain pants devoid of any pockets, while others will provide at least a couple. You have to ask yourself several questions as a result. Do you want pockets to be able to keep your hands warm? Are you after storage pockets for gear? Do you want these pockets on the front, side, or rear of the pants?
Consider these points before clicking on the order button and you're sure to find the right rain pants for you!
Weather with you
With limited time on this earth (and limited holiday too) you don't want to have to put off a long-desired trip because of uncertain or wet weather. Find those rain pants that are right for you and you'll never worry about what the weather is doing again
***Disclaimer*** Some of the links in this post are affiliate links. This means that if you book your accommodation through the site, One Weird Globe will earn a small commission at no extra cost to you. Your support helps me keep the site going :)
Clair is a travel addict and a staff writer for One Weird Globe! A Nomad since birth, Clair has lived all over the world, calling home wherever she is in the moment. Having traveled half the world, Clair is working on a memoir about her experiences in hopes to inspire others to travel and experience this amazing planet!
Latest posts by Clair Ricketts (see all)