A good stroller is a must have for anyone with a baby or toddler in tow, and this is no less true when traveling. But you don't necessarily want to travel with that bulky stroller that's great for home yet causes difficulties when it comes to weight restrictions or those all-important airline carry on restrictions.
That's where a well-designed travel stroller comes in. We've checked out all the latest models from all the top brands to bring you a round up of the best travel strollers currently on the market. You're very welcome!
Best travel stroller for toddlers
Suitable for children from 6 months to 40 lbs (or roughly 3 years of age), the Babyzen YOYO+ still manages to weigh in at under 13 lbs, and folds down incredibly easily to size that makes it compatible with most airline carry on restrictions.
A sturdy model that is sure to last any family until long after it is needed, there's a very useful storage basket beneath the seat, and good-sized wheels to ensure moving about over uneven surfaces isn't a problem.
Other features that make the YOYO+ great for parents and carers are the soft grip handles and ability to steer with just the one hand, while you and your toddler will appreciate the multiple positions the seat can recline too.
Pros
Designed for toddlers
Carry on compatible
Sturdy
Storage basket
Cons
Not for newborns
40 lbs max weight
No cup holders
No foot bar for toddler
Is the Babyzen YOYO+ for you?
Anyone searching for a sturdy travel stroller for toddlers will be more than happy with their purchase of the Babyzen YOYO+! In addition to its strong but lightweight aluminum frame, its easy to control, and also has a very handy storage basket of a good size. With the ability to carry children from six months of age onwards, you're sure to get years of use out of the Babyzen YOYO+.
Best travel stroller for newborns
The clean lines of the Jovial Portable mean this travel stroller designed for use with newborns onwards looks the part as well as acting the part!
The seat is fully reclining, meaning you won't have any trouble getting baby off to sleep even on the move. Like the Babyzen YOYO+, the Jovial Portable can be maneuvered with just a single hand, collapses down easily, and is also lightweight.
The retractable canopy adds a touch of color, while a deep storage basket sits beneath the seat space. Finally, the Jovial Portable comes with a helpful carry bag, making it even easier to move about when not in use.
Pros
For newborns onwards
Fully reclining seat
Storage basket
Carry bag
Cons
Not guaranteed carry on
Max 45 lbs weight
Carry bag could be simpler
Further storage would be helpful
Is the Jovial Portable Foldable Baby Stroller for you?
Traveling with newborns comes with its own set of problems to be overcome. This well-thought out baby stroller, specifically designed for use with newborns right up to toddler, takes the stress out of newborn travel thanks to its fully reclining seat, easy control, beneath seat basket, and storage bag.
P.S. – Save a bit of cash in Traveling with our EPIC guide to the best baby Carriers for Hiking!
Best travel stroller for Europe
Though a traditional rite of passage for many, with the likes of the Eiffel Tower and Florentine galleries, travel in Europe can come with its own problems. There are narrow alleyways and ancient steps to endure, and enough weather to complicate anyone's travel wardrobe.
The Maclaren XT Techno can deal with all of this and more! Simple to open and close, this travel stroller comes with a handle on the side for easy carrying. It comes with a good-sized sun and rain canopy, which has a clear window within it so you can keep an eye on your child on the move.
There are also several pockets at the back of the stroller in addition to the storage basket which are perfect for small items you need close to hand, such as fluids, sunscreen or umbrella.
Pros
Easy carry handle
Canopy
Back pockets
For newborn to toddler
Cons
A heavier stroller
Tricky securing straps
No carry bag
Not guaranteed carry on
Is the Maclaren Techno XT for you?
Strong yet compact, a good-sized canopy, and plenty of storage make the Maclaren Techno XT an excellent choice when investigating the best travel strollers for Europe, especially given it can be used from newborn right up to toddler age.
Editor's Note – You can also check out our article about the best Travel Towels.
Best travel stroller for Australia
To take on Australia you need one of the best travel strollers on the market full stop. Not only is there the long flight to think about, but bustling cities to explore, a dusty outback, and a fierce sun.
That's where the Convenience Stroller steps in. As if designed specifically for the Australian climate, the adjustable canopy blocks out 99.9% of both the sun's UVA and UVB rays.
It also includes a cup holder to stray hydrated, but remains of a weight that means you'll be happy moving it about the vastness of Australia either open or folded down and carried via the carry strap.
Pros
Sun protection
Cup holder
Lightweight
Carry strap
Cons
Shorter than some strollers
Carry strap not bag
Seat doesn't fully recline
Difficult for taller parents
Is the Summer Infant 3D lite Convenience Stroller for you?
What makes the Convenience Stroller a particularly good choice for Australia is the inbuilt UVA and UVB sun protection of the canopy, which is something of a must in such a climate. This, added with more standard travel stroller features such as a storage basket and carry strap seal the deal for us!
Recommended Article – Take a look at our AMAZING guide about the best Travel Jackets.
Best travel stroller for Airplanes
There's little wonder the Besrey Airplane Stroller comes out as our number one travel stroller for airplanes when it has been specifically designed and engineered with flight and the cramped conditions on board modern aircraft in mind.
The result is a travel stroller with a unique double-fold system that sees the stroller pack up into itself to reduce its close-down size and bulkiness so that it fits into an airplane's overhead bin – a huge advantage on any flight! Re-opening the stroller for use remains super easy however, with a simple single motion.
As well as coming with a carry bag, the Besrey Airplane Stroller includes a rear-positioned storage basket that can take up to 10 lbs in weight – another useful feature indeed.
Pros
Designed for airplanes
Fits in overhead bin
Carry bag
Simple opening motion
Cons
Rear rather than bottom storage basket
Canopy can hide child's face
Not for newborns
Seat doesn't fully recline
Is the Besrey Airplane Stroller for you?
Anyone who's struggled onto a plane with an ordinary stroller will understand the need for a well-designed and constructed airplane stroller – and this is it. The ability to fit into an airplane's overhead bin removes a huge amount of stress, with the Besrey still boasts the extras, such as a storage basket, of other strollers.
P.S. – Love the outdoors? Check out our bargain guide to the best Tandem Kayaks!
The Best Travel Backpack EVER MADE!?!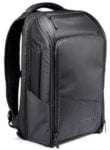 We are obsessed with backpacks – we've tried them all! And our favourite carry on backpack in the WORLD is the Nomatic Travel Backpack. This backpack has revolutionized the backpack industry and will change the way you travel forever :) Check it out here!
Best double travel stroller
If controlling one stroller when traveling is hard enough, controlling a double stroller used to be more trouble than it was worth, being wide, bulky and difficult to steer.
But not any longer thanks to the Scout double stroller from J is for Jeep! Not only does it weigh just 18 lbs – not much more than a single seat stroller – but it easily passes through a standard width door, removing that huge bug bear for parents.
Closing down into a surprisingly compact size, there are individual canopies for sun protection, and individual mechanisms for seat reclining too.
Pros
Weighs just 18 lbs
Compact close down size
Good-sized canopies
Individual reclining seats
Cons
Double stroller
No carry bag
Single storage space
Seats don't recline fully
Is the J is for Jeep Scout Double Stroller for you?
When it comes to double strollers, size and weight take on an even larger importance than with a single seat stroller. The J is for Jeep Scout Double Stroller weighs little more than a standard travel stroller, and folds down to a great size considering its capable of transporting not one but two of your little ones!
Editor's Note – You can also check out our article about the best Travel Daypacks.
Best lightweight travel stroller
One of the world's lightest and most compact of travel strollers, there was really no contest when it came to our best lightweight travel stroller category.The GB Pockit won hands down!
Weighing in at an impressive 9.5 lbs, it has been designed with a narrower width too, making it easier to pass through narrow entranceways as you might find on planes or trains.
The GB Pockit is very easy to fold down, and comfortable enough for toddlers to sit for extended periods of time without complaint. There's a small area for storage too. The GB Pockit Plus model adds a recliner function to the seat, and has a larger canopy for sun protection.
Pros
Extremely lightweight
Folds down small
Storage area
Ease of maneuverability
Cons
Narrower frame
Reclining seat on GB Pockit Plus
Small storage area
No carry bag
Is the GB Pockit for you?
When weight is the primary concern with regards to a travel stroller the GB Pockit is definitely the way to go – after all you currently can't get anything lighter! Though its narrower frame limits storage space, it is more than made up for with the easy maneuverability, even in tight spaces.
Editor's Note – You can also check out our article about the best Travel Hammocks.
Best jogging travel stroller
What marks the Baby Trend Expedition Jogger out as the best jogging travel stroller around at the moment is the durability of its design combined with the ability to connect Baby Trend brand car seats thanks to the built-in adapters.
There are also well considered features such as the double cupholder and closable compartment at the handles. As you would expect from a jogging stroller, the Expedition Jogger has a single lockable 12" front wheel, and easy to direct 16" rear wheels so you can jog and move about town with ease whatever the terrain.
Pros
Jogging stroller
Cup holders and closable compartment
Lockable front wheel
Storage beneath seat
Cons
Weight
Baby seat sold separately
No carry bag
Less stable than four-wheel stroller
Is the Baby Trend Expedition Jogger for you?
As jogging strollers go, the Baby Trend Expedition Jogger is a great all-round choice, meeting the needs of the everyday jogging parent and the needs of travel. The large single front wheel locks for jogging mode, but unlocks of maneuverability, while baby and toddler remain comfortable throughout with the well-padded seat.
Recommended Article – have you checked out our article about the best Carry on Backpacks?
Best of the rest
The Mountain Buggy Nano Stroller is aimed at toddlers up to 44 lbs, or roughly three years old, while an additional carrycot for carrying newborns can be attached via the built-in adapters.
It boasts a large under-seat storage basket, weighs just 13 lbs, and has suspension for a soft ride on the rear wheels, but what makes the Mountain Stroller stand out from the crowd is its compatibility with any form of infant car seat because of its adapter belts! When folded down, the Nano Stroller can be easily carried in its own bag.
Pros
For toddlers up to 44 lbs
Storage basket
Rear wheel suspension
Compatible with car seats
Cons
Newborns require additional carrycot
No front wheel suspension
Carry bag rather than strap
Car seat adaption not required by some
Is the Mountain Buggy Nano Stroller for you?
Its lightweight nature and adaptability to both carry newborns and be compatible with any make of infant car seat makes the Mountain Buggy Nano Stroller a worthy addition to our list. But more than just having one string to its bow, this stroller also includes the storage basket and carry bag rapidly becoming a prerequisite for travel strollers.
Though the UPPAbaby G-Luxe stroller may be a bit heavier than some of the other travel strollers on our list, coming in at 15 lbs, its certainly built to last, with a sturdy aluminum frame.
Handily, it also stands up on its own when closed down, meaning no more lying your travel stroller on the floor or leaning it up against a wall and hoping for the best!
As well as suspension on all four wheels to make the ride smoother for the child, the adults get a great amount of storage space in the basket beneath the seat, and a cup holder to one side of the handles too!
Pros
Sturdy
Stands upright when closed
Four-wheel suspension
Cup holder
Cons
Heavier than other strollers
Doesn't meet carry on restrictions
Seat doesn't lie flat
Not for newborns
Is the UPPAbaby G-Luxe Stroller for you?
If you're looking for a travel stroller that's going to last, the UPPAbaby G-Luxe Stroller is a fine choice. The aluminum frame will ensure it lasts however many times its closed down and reopened. Then there's the added bonus of suspension on all four wheels – still something of a rarity on travel strollers – for a smoother ride.
Best travel stroller bag
So you've chosen a travel stroller from our list of the best on the market, but how exactly are you going to transport it and keep it clean throughout your travels? The JL Childress Gate Check Bag solves this problem.
Airline certified, this is a simple bag in which to place your travel stroller when folded down at the gate of the aircraft. Double-stitch seams ensure its durability, while the material is also water-resistant.
There's a lockable drawstring closure on the model intended for umbrella strollers, and that for standard and double strollers for peace of mind. When not in use it fits into its own stretchable pouch, and takes up very little space, making it well worth taking while traveling with a stroller.
Pros
Keeps travel stroller clean
Durable
Airline certified
Small when not in use
Cons
Not intended for checked baggage
Need to check stroller dimensions before purchase
Handle rather than strap
Drawstring closure
Is the JL Childress Gate Check Bag for you?
If you're worried about handing over your travel stroller at the airplane gate, then the JL Childress Gate Check Bag is the thing for you. Simple slip your folded travel stroller inside, pull the drawstring tight, and lock, before handing it to staff. That way you'll know your travel stroller will reach its destination in the same condition of cleanliness as when it departed!
Further Recommended – have you checked out our article about the best Hiking Sandals?
Made up your mind?
We've brought you the best travel strollers (and travel stroller bag) available from all the top brands and given you the information you need to make an informed choice without having to scour the internet for hours yourself.
With the time you've saved, you might even be able to plan another trip away!
Editor's Note – No matter where you are traveling, you NEED to have great travel insurance. We have personally tested TONS of travel insurance companies, and can say without a doubt that World Nomads is the absolute best (and most affordable!). Fill out the form below to get a quote.
***Disclaimer*** Some of the links in this post are affiliate links. This means that if you book your accommodation through the site, One Weird Globe will earn a small commission at no extra cost to you. Your support helps me keep the site going :)
Clair is a travel addict and a staff writer for One Weird Globe! A Nomad since birth, Clair has lived all over the world, calling home wherever she is in the moment. Having traveled half the world, Clair is working on a memoir about her experiences in hopes to inspire others to travel and experience this amazing planet!
Latest posts by Clair Ricketts (see all)