Costa Rica boasts so much nature, and so many opportunities to go out into nature, that it makes for a perfect Central American adventure. Rainforests, beaches and volcanoes provide ample chances for trekking and lazing on the sand alike.
There are, however, some dangers to watch out for. It's an earthquake-prone area of the world, with active volcanoes and some dangerous wildlife to be aware of. Instances of petty crime and violent crime, even against tourists, are not unheard of here.
Don't be discouraged though. There are certainly ways to travel here without putting yourself into any danger – and we have created this guide to staying safe in Costa Rica to equip you with the information, tips and knowledge you need to do just that.
From an in-depth guide to this Central American country's public transport system, all the way to specific tips for all the solo female travellers out there –  and much, much more – we have you covered when it comes to travelling safely and sensibly through Costa Rica.
Heading to Costa Rica? Save some money with our guide to the coolest hostels in Costa Rica!
Is it safe to visit Costa Rica right now?
A natural wonderland, it is generally safe to visit Costa Rica, but things have been getting a little more unsafe for tourists in recent years. In 2018, for example, there were various incidents of tourists being robbed at gunpoint in Costa Rica – two of which were fatal.
Leaving aside the grizzly and frightening details of the many cases, it's important to be aware that there is a succession of and a rise in violent crime targeting tourists; this in a country where the murder rate, in general, has also been increasing.
However this fact isn't deterring tourists from visiting. In fact, visitor numbers have been rising of late. Well over 2 million visited back in 2015; in 2018 that figure jumped to 3,016,367 (up 57,000 on the year before). It's an upward trend, rather than a downward one – and that's despite the criminal incidents.
So even though it's "dangerous" people are still going, which makes us wonder exactly how dangerous it is.
Much of danger in Costa Rica, we would say, is natural. There's venomous wildlife. There are earthquakes, with the last major one occurring in 2017. There's volcanic activity; since 2014-15, the volcanoes of Poas and Turrialba have been rumbling, often forcing
Knowing about these things, and knowing what to do in a disaster situation, would serve you well here. To help you out with everything else, we have some advice for you…
Need more specifics? Here are the best neighborhoods in San Jose, Costa Rica to stay!
Safety Advice – 21 Safety Tips for Traveling to Costa Rica
When visiting a country that's supposedly as dangerous as Costa Rica is, what with the increase in crime, it's important to know some things about how best to avoid being a target of crime.
That is why we have put together this list of safety tips for travelling to Costa Rica. Using your smarts is one thing, but knowing what to use them on is another, so here they are.
Protect against mosquitoes. Dengue fever and other nasty mosquito-born diseases do occur in Costa Rica. Cover up around dusk/sunset, use a repellent containing DEET and – if you can – burn mosquito coils.
Know what to do in the event of an earthquake. In general, this involves getting under the most sturdy part of a building. If one occurs near a coastal area, head for higher ground. Read up and listen to local advice.
Be aware of the dangers of hiking close to volcanoes. The national parks in Costa Rica can actually be closed due to volcanic activity, so pay attention to restricted areas.
Take a guide if you're hiking into jungle areas. The guide is going to be able to spot all the creepy-crawlies and dangerous critters you'll want to avoid. Plus you'll stand a much higher chance of not getting lost with a guide.
Know your limits and be well prepared. If you do head out hiking, even with a guide, you should know when you start to feel dehydrated or faint, or anything untoward, that you should stop and head back to civilisation. A few more steps is not worth coming to harm over.
Careful when swimming off the coast. Riptides can be very strong, even for very, very confident swimmers struggling when caught. Ask for local advice on where is safe to swim.
Ask about sightings of crocodiles. They've been spotted on the Pacific Coast, near beaches, and people have been attacked.
When you're at the beach, be careful of your valuables. Even if you are lying next to them and fall asleep. It's easy for someone to quickly snatch a bag while you're off swimming, even if you have a friend watching them.
Be very vigilant of your surroundings at ATMs. You never know who is watching you. To be on the safe side, use them during the day so you don't become a target of crime.
Protect yourself against petty theft. Don't have expensive items easily accessible and wear a money belt.
Be vigilant when using public transport. This is a common place for petty theft to occur. It's on public transport where distraction techniques tend to be used, too.
Only catch licensed taxis. Catching an unofficial taxi can actually be quite dangerous and should definitely be avoided.
Don't stand out like a rich tourist. Try to dress down as much as possible, don't wear flashy clothes or jewellery, or even walk around oblivious to your surroundings.
Limit the amount of cash you have on you at one time. This is so you don't open your wallet and immediately have wads of cash spilling out of it – if someone notices, they may be interested in taking it.
If someone does want to rob you, hand it over. Don't resist as robbers are often armed. Your material possessions, your money even less so, are not worth your life.
Watch your drinks. Men and women should both keep an eye on their drinks as drink spiking does occur and often results in being robbed.
Stick to busy streets in towns and cities. Avoid quiet, remote roads. Even on main roads, robberies have occurred, but it's better to be around more people than not.
Make sure safety standards are met when you're going on a tour. The company you are using should be well reviewed and well established.
Do not get involved with drugs. The minimum sentence for possession in Costa Rica is 8 years. It's a serious offence.
If you have any issues, call the tourist police. There to protect tourists specifically, the Touristica Policia are deployed around major tourist areas and are there to help reduce crimes targeting tourists.
Learn some Spanish. This may help you get around if you are lost and will also enable you to have conversations with locals.
Costa Rica is amazing! And the best hostels in Tamarindo, Costa Rica will blow you away!
Costa Rica travel insurance 
While Costa Rica is visited by millions of tourists and is relatively safe, you absolutely NEED to travel with insurance! Traveling with insurance is a must for any area of the world, and is the best way to keep you and your belongings safe (and not to mention jus give you some peace of mind!)
We've tried all of the insurance companies and World Nomads is easily our favorite – plus they've got some affordable policies just for Costa Rica! Fill out the form below to get a quote :)
Before your trip, find out about San Jose's best hostels!
How to keep your cash safe in Costa Rica
Though it might not seem like something that's serious in the grand scheme of things, having your money stolen whilst on holiday or travelling abroad is still probably one of the worst, most annoying things that can happen to you.
That's your hard-earned cash, and now someone else has it. It's not what you want when you're on vacation and would rather be spending money on cool stuff than having it stolen!
So we would definitely suggest wearing a money belt.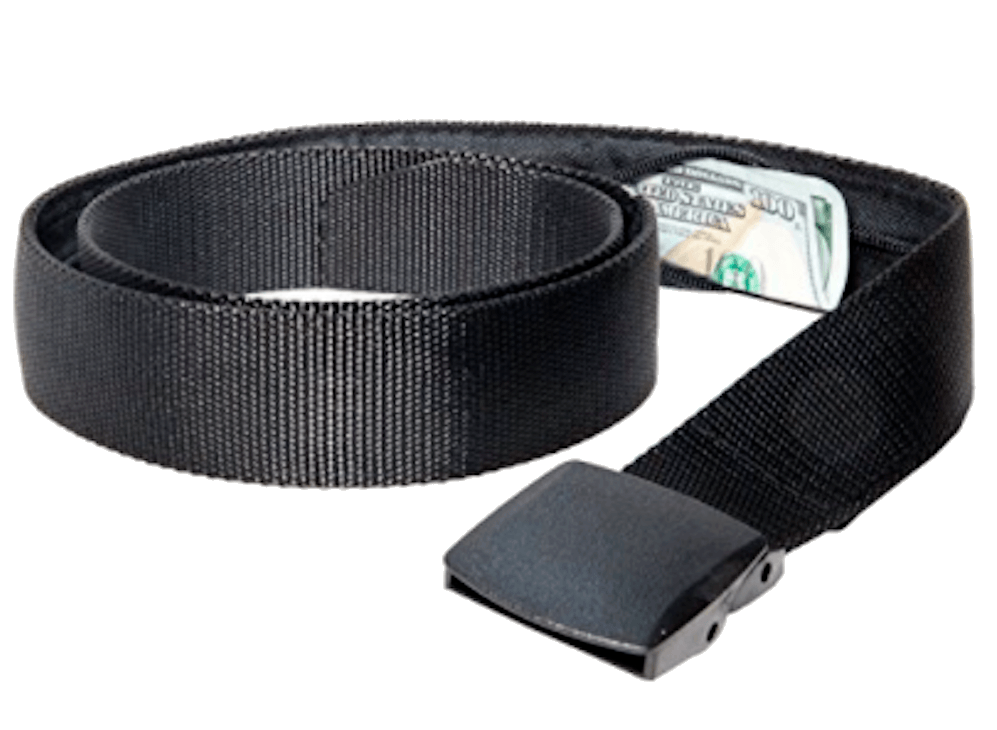 If you are traveling you should ALWAYS have emergency cash hidden on you! Security belts are great because they are affordable and can fit a ton of stuff in them (great for peace of mind!). Check out our favorite travel belt!
The simple solution that is the money belt not only means keeping your money hidden from potential pickpockets, but it also means always having some extra money to fall back on.
There are a lot of different choices out there, but the one we would go for every time is the Active Roots Security Belt. This amazing money belt is great not just because it's affordable and sturdy, but also because it's very, very simple.
Money belts tend to have a lot of pockets and zippers. They can also be uncomfortable, especially if you're already wearing the belt. The good thing about the Active Roots Security Belt, however, is that it is a belt – just with a secret pocket.
So when it comes to keeping your money safe in Costa Rica, whilst you can be as careful as possible in avoiding crime, it's better to be safe than to be sorry, so wearing a money belt is key.
Are the taxis safe in Costa Rica?
Though everybody in the world gets a taxi at some point, they're not always the safest way to get around. In some countries they may be absolutely fine to use, but in others – not so much. The taxis are safe in Costa Rica, but only to an extent.
To help catch a taxi in the best possible way in this country, and to help you avoid becoming a victim of crime when you're using a taxi, we have a great mini guide to taxis in Costa Rica so you can get around trouble-free…
Know your colours. Official taxis in Costa Rica are red. They're orange, however, if they're airport taxis, which also have a yellow triangle, medallion or "Airport Taxi" sign on the door. Anything else will be a taxi pirata or "pirate taxi".
Also know other ways to spot real taxis. Official taxis also have the name and number of a taxi company on a taxi sign on the roof.
It's illegal for taxi drivers in San Jose to note use their meters. These meters or which are also called marias should be used. Insist the driver uses it. If they don't want to use it, find another cab.
Taxis outside of San Jose don't usually have meters. You're not being scammed, that's just how it works.
Agree on a price before you get in a cab or start a journey. Bargaining for a price is very normal and widely accepted. A top tip would be to never agree on the first price, which will most likely be a higher-than-usual gringo fare.
Taxis in remote areas can be hired for blocks of time. They are often the main form of transport in more rural, remote areas, so if you find a driver you like you can hire for up to a day.
Prices can fluctuate. They often change depending on the weather and the time of day, generally becoming more expensive the wetter and darker it is.
Make sure the driver has their ID clearly on display. It should be on the dashboard. If it isn't, ask them about it or find another taxi.
Most towns and villages have at least one licensed cab. Sometimes they're not always going to be available to use.
In cities, you can also catch radio taxis. Ask your accommodation for the number of a reputable company, or alternatively, you could ask them to book a cab for you.
Is public transportation in Costa Rica generally safe?
Don't expect anything fancy when it comes to the public transport here. There is one train line up and running in the capital, but there are certainly no metro services going on in this Central American country.
Though limited, the public transportation in Costa Rica is generally safe. Let's run through your options and see what might be the best option for you…
Collectivos
Collectivos can be found in smaller towns. However, though once a common sight, they are becoming more and more scarce.
Passengers can ride from one end of town to the other, in essence, for a flat fee of what is usually the equivalent to 1 USD. Collectivos are mainly safe but can be quite old and usually crowded. Good for a local experience, however.
Public buses
Operating mainly in San Jose, Puntarnas, Golfito, Puerto Limon, San Isidro de el General are the public buses. They connect the city's urban and suburban areas. Once upon a time, they were old school buses, but today they have upgraded into former coaches.
They can get really busy. If they're too full, they won't pick you up. They are cheap though and fairly reliable. Pay attention to your belongings on these, however, and stash them in a secure place; theft from the overhead compartments is common, so it may be best to keep your bag on your lap.
Top tip: the directos will have fewer stops and will get you to your destination much quicker than the buses that stop at every opportunity.
Long distance buses
These are like public buses but run between different towns and cities.
Again, we would suggest that you take care of your luggage, but you should be taking extra care on long-distance buses because of the extra time involved.
If you're going more long-distance, be careful of people at bus stations and terminals who offer help. Often they want your money, or to steal your things outright.
Tourist buses
If you want to get around in the luxury of a shuttle service, usually with air-con and a pick-up service directly from your hotel, then this is the mode of transport for you.
The tourist buses, or gringo buses as they are known, run between a variety of popular destinations and are much comfier than public long-distance buses. They will also cost you a lot more money.
Rail
Following a particularly bad earthquake in 1991, the entire rail network shut down across Costa Rica. Recently, however, an urban service has been running from San Jose. It runs from the capital to Belen, Cartago, and Alajuela, with a service from Pavas running through the city to Curridabat.
For the most part its relatively safe, though not incredibly useful for getting around. Like all sorts of station areas, pay attention of your surroundings and who's lurking around nearby.
Ferries
You can also get around Costa Rica's coast thanks to a fleet of passenger ferries. These run regularly; just check times at your port of departure.
Always make sure you are using a reputable service. If you're worried, do research on the ferry company or ask your accommodation about the Costa Rican ferries.
Is the food in Costa Rica ok to eat?
Because of its location, Costa Rican cuisine has a big focus on fresh food. Many of the dishes are made from scratch and include tropical fruits and vegetables as well as rice and black beans – both, like other Central American countries, a big part of the diet.
The food in Costa Rica is, unlike what you may be thinking about Latin American food, actually quite mild. The food in Costa Rica is ok to eat, definitely, but it's important for you to not get sick during your trip, so we thought we'd help you out…
Salads are great. But if you've got a sensitive stomach, you may not want to try something that's been washed (or not washed) in water you're unsure about. Fresh food is Costa Rica's USP, but it's not imperative that you must eat the salads you're given. It's fine to leave it if you're wary.
Don't be afraid of the fruit. Again, it's all about the fresh stuff in Costa Rica, but if you're worried then we would recommend that you stick to fruit that you can peel to save on picking up potential germs.
Do try a coffee. Costa Rica is one of the world's largest exporters of coffee. If you're a coffee fan, then you're going to love trying out the strong joe on offer here.
Eat at establishments that are busy with local people. If you feel like heading out to eat, which you should, then only go where the locals go. Chances are that if it's popular with locals, it's bound to be good – and will be much less likely to give you a bad stomach.
Go to street food stalls. These are also great. What you should do in this case though is go somewhere you can see the food being cooked freshly in front of you. If you can see that it's served up fresh and hot, most likely it's going to be fine.
If it looks like food has been left out for a while, it's ok to ask for it fresh. All you have to do is say comida fresca and point to whatever it is you want to eat. Your request will be fulfilled.
Go to the roadside sodas. These may not look like much, but this is where you are going to find some of the best food in Costa Rica: tipico. This is a plate of rice, beans and salad that's good for breakfast, lunch and dinner equally.
Beware of cheap alcohol. There have been a spate of deaths recently in relation to alcohol tainted with methanol. If it's too good to be true, it might well be; avoid dirt-cheap bars.
Be clean yourself. Things like washing your hands before you eat, which seems obvious, are going to help you when it comes to not transferring germs on your hands to the food you're eating.
Can you drink the tap water in Costa Rica?
The water in Costa Rica is actually pretty safe. That's not to say that everywhere has safe drinking water, however: in rural communities and more undeveloped areas it's not always drinkable.
In these instances, it's best to drink water that's been boiled vigorously for at least 1 minute (3 minutes at higher altitude).
So, for the most part, you can drink the tap water in Costa Rica, which means you should bring your own water bottle. We'd recommend the Active Roots Water Bottle, which keeps your water cold – very good for cooling down in the hot climate here.
Is Costa Rica safe to travel to alone?
Believe it or not, solo travel in Costa Rica is a lot of fun. The people here are friendly and welcoming, it's a relatively small country so it's easy to travel around, but there's also a lot to see and do here.
There are plenty of opportunities to meet fellow travellers here. That's a good thing. Solo travel is great, but it's very easy to get lonely, so meeting people in hostels and guesthouses will put you in good stead for keeping sane and maybe making some lasting friendships.
Even though there's some level of crime and natural disaster issues, Costa Rica is safe to travel alone in general. It's a place to push yourself and learn new things. To help you stay safe while you do that, we've got some tips for you…
Choose suitable accommodation.

Costa Rica boasts all sorts of different accommodation. From social hostels where you can eat dinner around the table with staff and other guests, to more chilled guesthouses and even homestays, choosing the right place for you is the best place to start your solo travel adventure.

Certain towns are better for solo travellers. It might be cool to try and visit a lot of different places in Costa Rica, but some towns have a better travelling scene than others. Places like La Fortuna, Tamarindo and Puerto Viejo are good places to meet other people.
Book yourself a tour if you want to go somewhere off the beaten track. It's easy to be worried when you're by yourself, but you shouldn't limit yourself because of that. A tour will be a good way to see the country more safely. Even something like a cooking class or surfing lesson would be great; you get to meet people and learn at the same time.
Don't push yourself too much. There's no one to tell you when enough's enough, or when to stop, and it can be really dangerous to push yourself past your limits – especially in Costa Rica's unforgiving natural environments. Be kind to yourself, even when it comes to sightseeing; don't tick off boxes "just because".
Stay in contact with other people. It's easy to feel disconnected with pretty much everything when you're on a long trip by yourself. You can ease this feeling by simply keeping in touch with people back home. Call someone up for a chat and a slice of normality.
Keep your wits about you in cities. There's going to be no one else looking after you; it's only you looking after your own personal safety, so keeping your wits about you and trusting your gut is going to help you stay safe when you're in the city. Letting your guard down and wandering obliviously shouldn't be a thing you do.
Take a dry bag to the beach. It can be less than a good idea to leave your belongings unattended on a beach, so if you really want to go for a swim, we'd recommend taking a drybag. Choose one in which you'll be able to fit a t-shirt, your phone, wallet, shoes into one of these. Sling it over yourself and have a splash around without the worry that your things will go missing.
Travel light. Packing a lot of stuff you eventually won't end up needing into two, maybe even three, bags is not a good idea. Trust us: you won't need it. Keep to one bag if you can, which means you'll be less weighed down by your own baggage. Travelling light is a much better option.
If you're thinking about it you should go and enjoy this country. Costa Rica is a beautiful, sun-drenched country where you can learn about yourself, equip yourself with new skills, try exotic food you've never eaten before, and make friends. You'll be one of those people out there actually doing things instead of saying you're going to do things – and all whilst travelling solo.
Is Costa Rica safe for solo female travelers?
Female travellers are welcome basically everywhere in the world, but that doesn't mean that there isn't more of a risk involved in the bargain as opposed to male travellers.
Travelling by yourself as a woman is definitely a way to put yourself outside of your comfort zone, but it's not always easy. Safety concerns, the worry of loneliness, what you'll look like eating by yourself in a restaurant, navigating a city… It's challenging.
However Costa Rica is safe solo female travellers; there are issues in some areas, but we're here to help out.
Don't have a false sense of security. Costa Rica is one of the safest countries in Central America, but you should take that with a pinch of salt. It's generally safer for men than it is for women here; not something to scare you, but something to bear in mind. Women are easier targets for crime.
Do your homework. This country isn't just one big beautiful paradise. You'll need to know what areas of which cities are best to stay in, what towns are best for solo female travellers, how to deal with certain situations, and more.
Hostels are great if you're by yourself. But you should be very careful with the kind of place you stay. Read reviews and opt for female-only dorms or your own room (if you can); sometimes it's other travellers who will pose a threat. This isn't always the case, but it's better to be safe than sorry.
Walk with confidence. Standing in the middle of bus terminals looking confused is going to get you unwanted attention. Look like you know what you're doing and where you're going – even if you don't.
If you need help, just ask. Ask at your hotel, ask a local lady with a family, just ask for help. It's not good to suffer in silence. In addition, you can ask locals for local knowledge: Is it safe to walk around here? Is that restaurant ok for a woman by herself?
Go out to bars in a group. To avoid any hassle, going out drinking at night in a group is the best idea. This will also help you from walking back by yourself, which really isn't a good idea to do.
Catcalling does happen in Costa Rica. Everything from honking car horns to comments like preciosa (beautiful) is standard. Just be confident with yourself, ignore the comments and walk by.
The more skin you show, the more attention you'll attract. Costa Ricans basically wear whatever they feel like, and a lot of the time that can be pretty flamboyant. It's best, however, to wear casual clothes to limit the amount of probably unwanted attention you'll get. Everywhere except for the beach, of course.
Tell people your travel plans. The staff at your hostel, your new hostel buddies, and your friends and family back home. If you make last-minute changes to your schedule, just send your family a quick update. Obviously, don't tell any old person about what you're doing; use your gut.
And watch your drink. We've said it once, but we'll say it again: keep an eye on your drink when you're out and don't accept drinks from strangers.
Just because you're a woman, it doesn't mean that you shouldn't go travelling by yourself to Costa Rica. It's a great place to learn how to enjoy your own company but is also a good opportunity to meet other people and gain new experiences.
Key things: do your research, as this will give you some good grounding before you even arrive; be flexible, as your plans won't always work out; make friends with and ask the advice of fellow female travellers. It may not always be great, but it will definitely be a journey.
Is Costa Rica safe to travel for families?
Whilst not known for being a resort-filled, family-friendly part of the world, Costa Rica is nevertheless a world of incredible adventures, amazing wildlife and very friendly people. It is just the sort of place for a memorable family holiday, that's for sure.
Children will love meeting monkeys, splashing around in the shallows, and getting to know a new culture. It's a compact country that's easy to get around: the perfect place for parents who want an adventure in paradise with their little ones.
Accommodation
The accommodation in Costa Rica for families is surprisingly varied. There are a few options you can choose from.
For those feeling a little more adventurous, a homestay might be a good idea. Here you can truly get to grips with local life for a rustic (or urban) Costa Rican experience.
Modern hostels scattered throughout the country would be a good idea for families; private rooms will offer smaller families will need in terms of space.
Alternatively, you could opt for resorts by the beach with outdoor pools. These are more limiting, however, as there are less of them and they're usually only beachside affairs.
All in all, it depends on the size and age of your family; younger children may be best suited to something a little more all-inclusive, whilst older ones may love the idea of freedom at a hostel.
Supplies
There are many well-stocked pharmacies around towns and in tourist hubs such as La Fortuna. Here is where you will be able to pick up all sorts of baby products, nappies and formulas.
If you want to rent a car, thankfully it is possible to hire a car with car seats so your children are safe. You can also buy bottled water everywhere. Though the tap water is generally ok, smaller children are more susceptible to the slightest bit of germy water.
Rural areas tend to be less well equipped, so it's best to stock up on supplies (including snacks) before you head out there.
Safety
Costa Rica is a hot place. It goes without saying really, but children who aren't used to the humidity and high temperatures need to stay hydrated. Sunscreen, sunhats, and staying in the shade during the hottest parts of the day are all important.
It's also important to cover up and protect against mosquito bites; mosquito-born diseases do exist in Costa Rica, but usually, they're just pesky. You won't want your children to be covered in bites as it will ruin their (and your) fun.
Always watch your children when they're splashing in the sea. Make sure they don't get out of their depth as the riptides can be very dangerous.
And finally… 
Far from being the scary Central America you might have been thinking of, Costa Rica is safe to travel for families.
There are a whole lot of interesting adventures to be had here, from ziplining across jungle canopies to guided walks in the jungle, even spotting underwater sealife with a snorkel. There's even a sloth sanctuary in Costa Rica where your children can spot a sloth or two!
There's basically a lot of delicious food, friendly people, and amazing nature that adds up to a destination of a lifetime for a family with little ones.
Is it safe to drive a car or motorbike in Costa Rica?
Getting around Costa Rica by car is surprisingly easy. It is actually much quicker than getting around by public transport. You also won't have to worry about theft on buses, the bus running late or any other kind of hassle. You will also be able to reach more remote destinations, and travel at your own pace, if you have your own wheels.
All that being said, driving in Costa Rica does come with some challenges…
Many roads are unpaved and in terrible condition. Make sure you plan your route beforehand. Knowing how to change a front tyre would be very handy; a flat is not an unusual occurrence.
Renting a four-wheeled drive is recommended. If you're planning to head into more remote areas, then you will have to deal with the aforementioned terrible roads. A 4×4 is definitely preferably over a regular car in these sorts of areas. When it comes to the rainy season, and many roads literally turn to rivers, a four-wheeled drive is the only way to go.
Fill up for fuel on the 24 hour service stations along the Interamericana. Away from here, in remote areas, fuel will be both more expensive and harder to come by.
Inspect the car you rent before you drive it away. Make a note of any damage that was there before you got in the vehicle, otherwise, you might be the one who ends up being blamed (and charged) for it.
Don't be surprised to see accidents or broken-down cars. As we mentioned, the roads can be bad and breaking down is common, so don't be alarmed: it's kind of a usual sight in this country.
Never leave anything on display in the car. Thieves target rental cars anyway, so don't make the prospect even more attractive with valuables, or even a map, that can be seen from outside.
Mountain roads are not for the faint-hearted. These can be winding, single-lane roads with sheer drops and no hard shoulder. Be very careful driving on these, especially in fog or heavy rain.
It's best to drive defensively. You need to be ready to deal with anything that's going to pop out in front of you, from a person, a car suddenly changing lane, a pothole, or even an animal.
Check weather conditions before you head out on a big journey. Landslides can occur after heavy rain, so it's probably best to delay your journey if there is or has recently been very heavy rain.
Wear your seatbelt. It's required by law and you'll be fined if you're found to be not wearing one.
While renting and driving a car is generally ok, you should expect things like erratic driving and speeding – on top of all the bad roads and weather conditions. Being a confident driver, and with experience of driving in a country with under-developed roads, is definitely a plus.
It's safe to drive a car here, but in general, it's not safe to drive a motorbike in Costa Rica. It's not something we'd recommend, being a much more unsafe to get around than by four wheels.
Is Costa Rica safe to live in for expats?
Nature, nature, and – you guessed it – more nature, Costa Rica is the place to go if you are someone who likes to be in the wilds of nature. There's a lot of it in this Central American Country.
There's also a relaxed atmosphere, the people are very friendly, and for the most part, yes, Costa Rica is a safe place to live for expats.
It can seem like a perfect place, with its palm-fringed beaches and bustling towns, but there are also some things you should bear in mind before you make the leap…
Do your research. When it comes to where to live, you should definitely spend a lot of your time looking into the safest place. Quality of life rankings, how many other expats live there, crime levels – all of these things you should consider. And then there are less (but still quite) important questions, like the beach or mountains? Country or city?
Be aware of the crime levels. Though with a lower rate of crime than its neighbours, Costa Rica is still quite high – especially in terms of burglaries. Homes are often a target; homes that are only used seasonally even more so. Make sure your house is secure. Don't leave things on show and make and lock your doors and windows.
You'll have to get used to the nature. That's not just the incessant insects, but also the weather, the climate, and even the potential earthquakes and volcanoes.
It's not as cheap as you might think. People often lump all of Central America into the bracket of "cheap" but Costa Rica is less cheap than others.
It can be difficult for a foreigner to get a work visa. You have to prove that what you're doing is something that a Costa Rican citizen can't do, or isn't qualified for.
Learn some Spanish. It will definitely help you in practically all aspects of your new life in Costa Rica to learn some Spanish. Everything from reading menus to actually talking to real Costa Rican people will benefit from this.
If you're worried at all about moving to Costa Rica, the best thing to do would be to get online and find expat groups. Whether they're forums or Facebook groups, do your research, make sure you do the groundwork before you arrive, and things will go a lot more smoothly than if you rock up without a plan.
How is healthcare quality in Costa Rica?
The healthcare quality in Costa Rica is actually quite amazing. Particularly, the public healthcare system, Caja, is universal. In terms of quality, it's good, ranking higher than the United States' healthcare system, according to WHO.
This means that good medical care is available in all major cities, in which you will be able to receive emergency treatment if necessary.
If you need advice, Costa Rica boasts good pharmacies with over-the-counter consultation, diagnosis and even prescription an everyday occurrence. Pharmacists will refer you to a hospital if they feel you need further treatment.
There are also public clinics; with no need to schedule an appointment, you turn up and wait to be seen in order of severity. Ambulance services are also available, though interestingly more often than not is a Red Cross service.
Heading into the more rural areas of Costa Rica generally means that the quality of healthcare goes down; some areas of this country are quite remote and with mountainous terrain, so access is more difficult.
There are a couple of world-class private clinics in the capital of San Jose, and even Hospital Nacional de Ninos – the best children's hospital in Central America. It's safe to say, then, that you shouldn't have anything to worry about when it comes to healthcare if something happens to you on your Costa Rica trip.
Conclusion
Really assessing the safety of a country like Costa Rica is difficult. Though it may be one of the safest countries in Central America, having Central America – a typically unsafe region marked by years of conflict and drug trafficking – as a benchmark doesn't single it out all that much. It still pays to use your common sense and street smarts in this country.
On the other hand, if you are looking for a taste of Central America, and want a basically and generally quite safe experience, then you should come here. In some respects it's actually a bit of an undiscovered gem: many more statistically unsafe countries of Latin America, Mexico for example, get many times the visitors than Costa Rica does.
So we say spread the wealth! And though the increase in tourism is bound to also lead to a rise in tourists being the target, hopefully, the more tourist dollars means more is pumped back into the economy. Refreshingly with no standing army (it was abolished in 1948), Costa Rica could be poised as the soft power leader of Central America.
***Disclaimer*** Some of the links in this post are affiliate links. This means that if you book your accommodation through the site, One Weird Globe will earn a small commission at no extra cost to you. Your support helps me keep the site going :)
Aiden travels for two things - food and sports! An avid football-fanatic, Aiden eats his way through Europe while catching every football he can manage! When he is not chasing matches around the continent, Aiden lives in Birmingham, UK.
Latest posts by Aiden Higgins (see all)