The heart of French Canada, Quebec City is the place to go in Canada to feel a deep sense of history and old-world charm. Cobbled streets lined with pretty shops, grand old buildings, beautiful riverside locations and plenty of food to try out, it's no wonder that Quebec is a dream destination.
It may be known for its old town, but there's more to the Francophone capital than its historic core. Knowing other places to stay in Quebec could mean you get to stick to a budget, or see a world of the city away from tourist crowds.
That's why we've made this epic guide! We've listed the seven best neighbourhoods Quebec, what they've got to offer, and the top places to stay in each one.
Let's get going!
Quick Tips – Where to Stay in Quebec
Where to Stay in Quebec
Want the best out of your trip to this cool city and don't mind what neighbourhood you're in? These are the top places to stay in Quebec to cut out the fuss.
Best Hostel in Quebec
There's not loads of choice for hostels in Quebec, but this one is easily the best. It's easy to see why their review scores are consistently high: the owners are amazing, it's set in a local area, there's free bike hire, there's dorms (female-only included) and privates, plus there's a three-times daily shuttle to Old Quebec.
Best Budget Hotel in Quebec
This cool Quebec hotel is surprisingly easy on the wallet. For a reasonable rate, you get exposed brick walls, comfy beds, sleek style, and all set in a lovely building in Old Quebec dating back to 1734. It's the best budget hotel in Quebec because what you get easily surpasses what you actually pay – it's great!
Best Splurge Hotel in Quebec
Another hotel set in part of the city's history, Hôtel Le Germain Québec is the place to be if you're looking for a high-end place to stay in Quebec. There's a bar, outdoor terrace, and room service on offer. Situated inside two heritage buildings, it's also close to public transport as well as top museums.
Quebec 7 Best Neighborhoods to Stay in
Here they are: the seven best neighbourhoods in Quebec. Each one is different from the next, meaning you get to choose a part of the city to stay in that suits you the best.
Neighborhood #1 – Old Quebec
(Best neighborhood in Quebec for your first time!)
COOLEST thing to do in Old Quebec – take a tour of the citadel to get a feel for the history
BEST place to visit in Old Quebec – go and marvel at the majestic Chateau Frontenac (the most photographed hotel in the world!)
The historic core of Quebec, Old Quebec is actually one of the oldest settlements in North America – so it's no surprise that it's been recognised by UNESCO! Dating back over 400 years, Old Quebec has got to be the most ideal neighbourhood in Quebec if you're a first time visitor.
You'll be completely charmed by the jumble of old houses, the cobbled streets and old establishments, feeling more like a European trip than one to Francophone Canada. First-timers aside, fans of history and architecture will love this part of town; you won't be able to stop gazing at the houses nestled along the St Lawrence River.
More Awesome Things to do and see in Old Quebec
Take in yet more history at the Chateau Saint Louis archaeological site
Go and enjoy the views of the glittering waterfront from Parc du Bastion de la Reine
Visit the old prison that is now the Morrin Centre – a Victorian-era library that's now packed with 25,000 books
Have a coffee and watch the world go by at Place Royale
Grab an alcoholic drink at the Pape Georges V, a 400-year-old tavern
Walk around the ramparts of Quebec, a relic of what is North America's only remaining walled city (north of Mexico)
Browse the antiques and galleries of Rue Saint-Paul
Best Hostel Old Quebec
Located inside the walls of Old Quebec, this place is huge – in fact, it's the biggest hostel in all of Canada! There are 266 beds! You'll find a cafe, shared kitchen and an outdoor terrace; tons of space to get to know people at the best hostel in Old Quebec. It's nice, too: think wood floors and high ceilings.
Heading to Toronto? Save some money with our guide to the coolest hostels in Toronto!
Best Budget Hotel in Old Quebec
If a hotel isn't your thing, then you'll want to know what the best budget hotel in Old Quebec is – and it's this place. Hôtel Le Concorde Québec is located close to the old streets in Quebec's historic core. The rooms are spacious, modern and have views of the city. There's even a rooftop revolving restaurant!
Best Splurge Hotel in Old Quebec
If you've the cash to spare, this chic hotel in Old Quebec is for you. Near to all the top sights of the area, this high-end hotel will provide everything you need. Rooms are spacious, have exposed brick walls, wooden floors and large windows. It's high-end – starting with the lobby complete with fireplace, of course.
Editor's Recommendation! These are the staff pick for the top hostels in Banff (for all budgets!)
Neighborhood #2 – Vieux Port
(Where to stay in Quebec close to everything!)
COOLEST thing to do in Vieux Port – rent a bike and pedal along the port
BEST place to visit in Vieux Port – head to the Musee de Civilisation and see the 100,000 artefacts on display
A busy, bustling area, Vieux Port means 'Old Port' and is sandwiched between the Place Royale and Petit Champlain, just south of Old Quebec. The area gets busy in the summer months as cruise ships arrive in the summer months – but we don't blame them.
Though beautiful all year round, it's in summer that Vieux Port really comes alive. Here you'll find all manner of festivals, from food to art and music and everything in between. It may lack sights of its own, but Vieux Port is great for shopping, dining and is a great place in Quebec close to basically everything.
More Awesome Things to do and see in Vieux Port
Go for brunch Bouchet Bee – a beautiful bistro famous for fresh ingredients and tasty dishes
People-watch with a coffee at Bar Artefact, a cosy place to sit that's decorated in antique furniture (the free WiFi is a bonus)
Try out the amazing selection of pizzas on offer at Mille et Une Pizzas – it's a really popular local place that serves up sandwiches if you're not in the mood for a pizza
Soak up the art at Gallerie Michel Guimont
Shop for fresh fruit at the local Marche du Vieux Port; it's seasonal, meaning in winter it's a Christmas market
Best Hostel Vieux Port
Though not a hostel, Monastère des Augustines is a perfect alternative. It's a former 17th-century monastery – you can even stay in a monastic cell with a shared toilet. With loads of space to hang out, this unique place to stay in Quebec put on activities like yoga classes and features a restaurant, too.
Don't stay in the city too long! Take one of these great day trips from Vancouver to see more of the area!
Best Budget Hotel in Vieux Port
A great hotel that's in the middle of the best neighbourhood in Quebec that's close to everything, you can imagine that the local of Hotel Le Saint-Paul is pretty good – it is. Set in a historic building with modern rooms, the owner here is really friendly. Without doubt you'll feel at home the moment you arrive.
Best Splurge Hotel in Vieux Port
If you're looking for a bit of luxury in View Port, Quebec, then this is the place for you. The heritage building of Hotel Manoir Victoria is impressive and the interiors are seriously sophisticated. Think dark wood-panelled walls, leather sofas and high-end dining. There's also a swimming pool and a gym.
The Best Travel Backpack EVER MADE!?!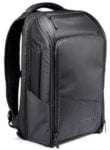 We are obsessed with backpacks – we've tried them all! And our favourite carry on backpack in the WORLD is the Nomatic Travel Backpack. This backpack has revolutionized the backpack industry and will change the way you travel forever :) Check it out here!
Neighborhood #3 – Saint-Roch
(Where to stay in Quebec for nightlife!)
COOLEST thing to do in Surfers Saint-Roch – go on a foodie tour through the area
BEST place to visit in Saint-Roch – take a break at Jardin Saint-Roch
A local neighbourhood dating back to the 17th century, Saint-Roch is where it's at in Quebec for nightlife. Formerly a centre for Quebec's shipbuilding trade, Saint-Roch is now a pretty cool, hipster-friendly area with old renovated buildings giving it a new lease of life.
With all that regeneration, the district has been come to be called Nouveau Saint-Roch. Regardless, you'll be able to drink a beer in old breweries, see live music in former warehouses, and generally party the night away with the cool kids in this part of town. It's a fun area in Quebec for people who like local life and late nights.
More Awesome Things to do and see in Surfers Saint-Roch
See some live music on Thursdays at the cool nightclub that is District Saint-Joseph, a popular local haunt
Pick up a rare vinyl or two (or maybe a new skateboard and some skate tees) at record/skate store, Exo Shop
Go for a delicious bowl of ramen at Toraya Ramen and get a plate of gyozas for the side
Grab a single-origin coffee at Saint-Henri Micro-Torrefacteur
For more live music, head on over to local favourite, Korrigane Brasserie Artisinale – best experienced with a beer, of course
Check out L'ANTI Bar and Spectacles: yet another uber cool spot for live music and drink
Best Hostel in Saint-Roch
Hôtel du Jardin isn't a hostel – but it's a good substitute. It's an affordable place to stay in Quebec's Saint-Roch district. The rooms here are clean, funky and modern. Staff here will help you out with tours and advice. As the cherry on top the convenient location here is perfect. Great for a social, budge stay.
Need to see more of Canada? These day trips from Toronto will show you the coolest areas around.
Best Budget Hotel in Saint-Roch
Even though it's a chain, this great budget hotel in Saint-Roch is perfect for those on a budget looking for a proper hotel experience. There's even a bar and restaurant in the hotel itself. Staying here means having the perfect base for exploring the best neighbourhood in Quebec for nightlife.
Best Splurge Hotel in Saint-Roch
This place does high-end very well. In fact, it's got to be one of the coolest hotels in Quebec, let alone Saint-Roch. All sleek and design-oriented, Hotel PUR is the perfect place to stay for anybody who loves staying somewhere that is, in a word, cool. The onsite restaurant is amazing – and so is the location.
Come to Canada! And visit these places while you're here!
Neighborhood #4 – Saint-Jean-Baptiste
(Best neighborhood in Quebec for families!)
COOLEST thing to do in Saint-Jean-Baptiste – people-watch at the bustling Passage Olympia
BEST place to visit in Saint-Jean-Baptiste – admire the beautiful Saint-Jean-Baptiste Church, dating back to 1884
Saint-Jean-Baptiste was the first area of Quebec to be built outside of the old walls of the city; it's close to the gates and is fairly old itself. It's a busy local neighbourhood with a lot of options for eating, drinking and sightseeing.
With a great atmosphere, as well as a great location, staying here means being close to everything, but not being inundated with crowds – a great combination leading up to the best neighbourhood in Quebec for families. It's more about having a local experience, rather than a touristic one.
More Awesome Things to do and see in Saint-Jean-Baptiste
Soak up all the history at the beautiful Bibliotheque Claire-Martin, a former 19th-century church that's now a library
Treat you and your family to some chocolate at Erico's Choco-Musee; taste chocolate and learn all about the process of making the tasty stuff itself
Hire bikes from one of the bike rental shops in the area and explore via pedal power
Go and sample some of the delicious cakes, pastries and sandwiches at Boulangerie Epi'Fanny
Catch a family-friendly show at the Grand Theatre de Quebec, with many different plays and activities on offer
See the city from above at the 30th floor of the Marie-Guyart Building
Best Hostel in Saint-Jean-Baptiste
A great place to stay for families, especially if you're on a budget, you can book out one of the compact dorm rooms at Auberge de jeunesse Aubergélit to yourselves. Family rooms are also on offer. Colourful artwork adorns the walls and there's a family-friendly garden to run around in – complete with hammock.
Still haven't booked for Edmonton? Find out where to stay in Edmonton for any type of trip!
Best Budget Hotel in Saint-Jean-Baptiste
This is a great option for families. Having a whole studio to yourself, including kitchen and garden area, means you can really relax and enjoy Quebec at your own pace. The best budget hotel in Saint-Jean-Baptiste, these studios are also run by really friendly locals who will help you with anything you need.
Best Splurge Hotel in Saint-Jean-Baptiste
A gorgeous chalet overlooking the waters of the St Lawrence River, this beautiful lodge-style place to stay in Quebec is perfect for a family trip. With its charming, wooden interiors, this place is roomy enough for up to 12 people, and also boasts an outdoor deck, small jetty and a garden.
Will you also visit Prince Edward County? Check out where we like to stay in Prince Edward County!
Neighborhood #5 – Saint-Sacrement
(Where to stay in Quebec on a budget!)
COOLEST thing to do in Saint-Sacrement – be charmed by the cute early 20th-century houses in the area
BEST place to visit in Saint-Sacrement – be impressed by the 1924 L'église du Très-Saint-Sacrement
Quebec might be generally cheaper than some cities in Canada – notably Toronto – but it's still not the cheapest ever place. Luckily Saint-Sacrement is a great place to stay in Quebec if you're on a budget; it's a low-key neighbourhood that doesn't come with any sights and barely sees any tourists.
Not only will you get to see a real part of this Francophone city by staying in Saint-Sacrement – named after the impressive L'église du Très-Saint-Sacrement – you'll also be pretty close to Old Quebec and the centre of town. Situated on Quebec hill, it may be a modern part of the city, but it's 100% authentic.
More Awesome Things to do and see in Saint-Sacrement
On a sunny day go take a swim at the Centre des Loisiers Saint-Sacrement
Sip on some craft beer or a cool cocktail at the Le Sacrement Bistropub Microbrassieries – there are even some tasty burgers to gorge on here, too
Go for a coffee or breakfast (they do a good, affordable breakfast here) at La Petite Citie
Rent a car from nearby and enjoy the freedom of exploring further afield; nearby Ile d'Orléans, for example, has countryside charm
Pack some cheese and bread and go for a picnic under the blossom at Parc-Samuel Holland
See a gig at Salle Jean-Paul Tardif, a local live music venue
Best Hotel for Backpackers Saint-Sacrement
For most of the year, Résidences Université Laval are for students – but once the students go home, their halls of residence become available for guests. Perfect for a backpacker place to stay in Quebec – or for those on a real budget – rooms are clean, modern and there are kitchens and places to hang out.
MUST READ! We've organized the best places to stay in Niagara Falls for all types of trips!
Best Budget Hotel in Saint-Sacrement
Right near Parc-Samuel Holland, Hotel Auberge Michel Doyon is also well placed for taking the bus into the centre of Old Quebec. Easily the best budget hotel in the top neighbourhood for budget travellers in Quebec, it may be basic but it's clean, has everything you need and the owners are super friendly.
Best Splurge Hotel in Saint-Sacrement
For those who want a taste of luxury, but that's still reasonable for a budget, this place delivers. Hotel Universel has a tropical-style indoor pool area to chill out at, the rooms are large and newly renovated, and there's an onsite restaurant if you don't feel like venturing outside. There's also parking.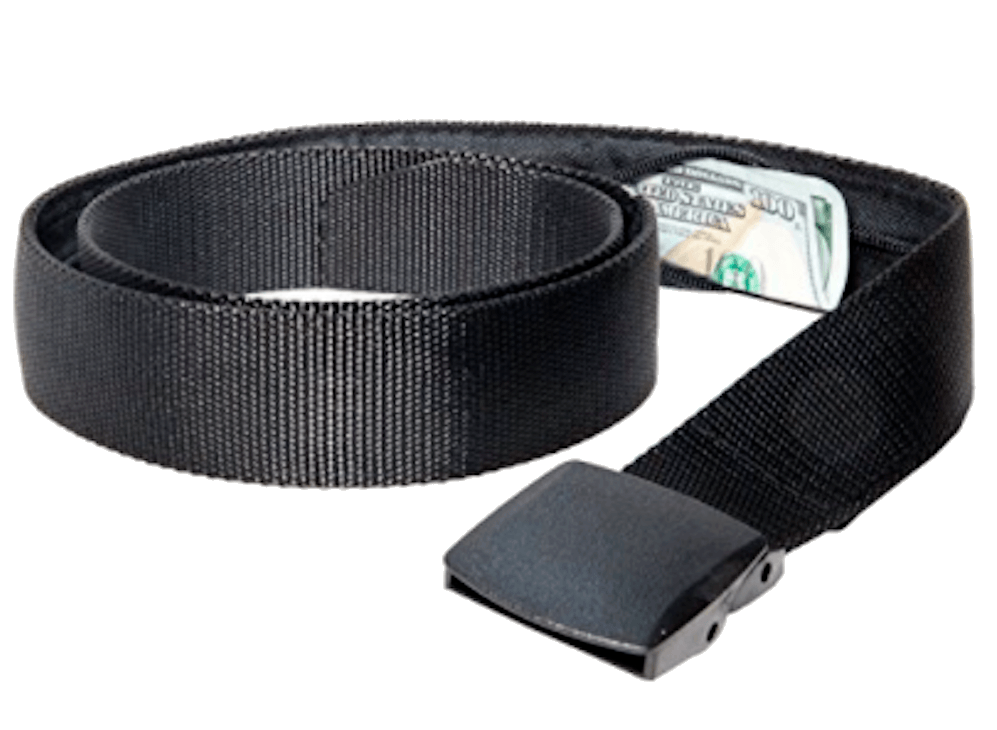 If you are traveling you should ALWAYS have emergency cash hidden on you! Security belts are great because they are affordable and can fit a ton of stuff in them (great for peace of mind!). Check out our favorite travel belt!
Neighborhood #6 – Petit Champlain
(Best neighborhood in Quebec for couples!)
COOLEST thing to do in Petit Champlain – spot the incredible murals around this part of Quebec
BEST place to visit in Petit Champlain – ride the funicular to Old Quebec, complete with views along the way
Quartier Petit Champlain may be a tiny area of Quebec, but there's a lot of charm packed into it. With all its historic buildings, winding lanes and lovely places to eat and drink, this has got to be the best neighbourhood in Quebec for couples – without a doubt.
Busy with shops and historical character, the centre of this district is Petit Champlin: a shopping street that's actually one of the oldest in the city. It's a romantic area criss-crossed with cobbled streets that are lined with 17th-century buildings. How could it not be the perfect place for a couples' getaway?
More Awesome Things to do and see in Petit Champlain
See some local performances of music and comedy at the Theatre Petit Champlain – an original theatre still in operation to this day
Tuck into beaver tails, a classic Canadian dessert, at Queues de Castor Patisseries
Take the ferry across from here to Levis and see the skyline of the city from across the river
Try not to fall down the Escalier Casse-cou or 'Breakneck Steps') – the city's oldest stairway, originally built in 1635
Sit in the Kiosque Victoria and watch boats go by on the St Lawrence River; this is especially beautiful at night time when the boats are all lit up
Take the toboggan down Les Glissades de la Terrace!
Best Hotel for Backpackers Petit Champlain
It may not be a hostel, but this hotel for backpackers in Petit Champlain comes at a reasonable price – especially if you're backpacking as a couple or with a friend and will be sharing the room. It's a quirky place to stay set in an old building with plenty of bed-and-breakfast charm.
Need to save money? Check out the cheapest hostels in Vancouver!
Best Budget Hotel in Petit Champlain
A great budget hotel in Petit Champlain. There's even more reason to love Les Lofts, as you can also book an apartment which comes with laundry and kitchen to keep costs properly low. The rooms are chic, with light panelled wood and the whole place feels pretty homely and welcoming.
Best Splurge Hotel in Petit Champlain
The most famous building in all of Quebec, Fairmont Le Chateau Frontenac is the place to stay if you want to splash out. The best luxury hotel in Petit Champlain, this place is quite literally like a castle. It's got stunning views, amazing restaurants, spacious rooms and impressive corridors to wander around.
Traveling on a budget? Have you seen our cheap hostel recommendations for Toronto?
Neighborhood #7 – Parliament Hill
(Best neighborhood in Quebec for nature lovers!)
COOLEST thing to do in Parliament Hill – stroll around the manicured lawns and flower beds of Parliament Gardens
BEST place to visit in Parliament Hill – take a tour around the Parliament Building
True to its name, this is the location of Quebec's Parliament Building and it's located on a hill – simple. The main landmark in the district, the grand Parliament Building itself, was inspired by the Louvre and was built between 1877 and 1887.
Surrounded by gardens and flowerbeds, this area is a chill neighbourhood in Quebec for nature lovers. The tree-lined Grand Allee, with its many terrace cafes and old architecture, makes for a beautiful, leafy walk – or a coffee. This is the city's gathering point at New Year for fireworks and festivities.
More Awesome Things to do and see in Parliament Hill
Enjoy the calm Esplanade Park, a great place to soak up some fresh air for children and adults alike
Go to the very large Parc du Bois de Coulonge, complete with waterways, footpaths and an arboretum
Take a look at the St Lawrence riverside
Go to the nearby Quebec Yacht Club for a meal by the water
Visit the Monument of Charles de Gaulle
Lunch on the lawns at Quebec Garrison Club
Catch a spot of classical music at the Grand Théâtre de Québec
Browse the many halls of the Library of the National Assembly of Quebec
Best Hostel for Backpackers Parliament Hill
Gîte Au Croissant de Lune is technically not a hostel, it's a gîte, which is sort of like a B&B. This makes for one of the best places for backpackers to stay in Parliament Hill, Quebec. Not only do you get breakfast every morning, but you get a knowledgeable host full of local tips and knowledge.
Best Budget Hotel in Parliament Hill
This old-world budget hotel in Quebec will feel like staying a museum – in a good way. Think antique furniture, gramophones, grandfather clocks and incredible fireplaces. The rooms boast old wooden beds and the whole place is soaked in a historic atmosphere. And all for a reasonable price, too.
Best Splurge Hotel in Parliament Hill
This branch of chain hotels in Quebec boasts a great location in Parliament Hill. Here you'll find large modern rooms, crisp white sheets, big beds and gleaming ensuite bathrooms. There's a sleek bar to grab a drink at a restaurant with views over Quebec's rooftops. Comes complete with gym and pool.
Final Thoughts on Where to Stay in Quebec City?
With so many places to stay, things to do and with its hefty helping of history, Quebec has got to be one the stand-out destinations in Canada. Its hilly location means getting great views of the city from lots of different places, the riverside means charming walks, old buildings house cool new bars; we love it!
The best area in Quebec for us has to be Saint-Roch. This buzzy, hipster-ready area has plenty of old school charm itself, plenty of cool things to do, but is also right near the oldest parts of town, too!
Every place we've mentioned in this guide, however, have different charms all of their own, so we hope you'll pick the right one for you.
Any neighbourhoods we've missed out? Cool things to do in Quebec we don't know about? Tell us all about it in the comments!
***Disclaimer*** Some of the links in this post are affiliate links. This means that if you book your accommodation through the site, One Weird Globe will earn a small commission at no extra cost to you. Your support helps me keep the site going :)
Aiden travels for two things - food and sports! An avid football-fanatic, Aiden eats his way through Europe while catching every football he can manage! When he is not chasing matches around the continent, Aiden lives in Birmingham, UK.
Latest posts by Aiden Higgins (see all)